Online
For more information about Down syndrome, visit the Mile High Down Syn­drome Association at www.mhdsa.org.
Want to contribute?
Are you interested in writing an article about a topic you care about? Contact City Editor Blythe Terrell at 970-871-4234 or bterrell@steamboa... or Editor Brent Boyer at 970-871-4221 or bboyer@steamboatp...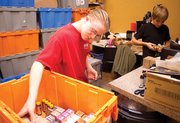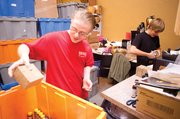 Steamboat Springs — Editor's note: October is Nat­ional Down Syndrome Awareness Month. This is the second of three articles about families and individuals affected by Down syndrome in Routt County.
Kelly Chambers has been to some beautiful places. He has traveled to Belize with his parents and to Jamaica for his brother's wedding. He also has accompanied his family on camping and boating trips to places such as Montrose and Flaming Gorge. Several years ago, he traveled to Florida by himself to visit his brother. Still, he thinks Steamboat Springs is a pretty good place to be.
Chambers, who has Down syndrome, said he likes living in Steamboat because he lives close to his mom and "because I have good friends." He has close friends he's known since elementary school, but he also seems to have friends everywhere he goes.
"He's a great guy," said his brother, Chris Chambers. "Every­­­­body that knows him just loves him. He seems to bring a lot of joy to people."
Kelly Chambers, who turns 28 today, is animated when he talks about his friends and family. He also is a passionate fan of World Wrestling Entertainment and loves to talk about the exploits of his favorite wrestlers. His enthusiasm is contagious.
Down syndrome, named for John Langdon Down, the doctor who first described the syndrome in 1866, causes common physical characteristics such as shorter stature, a smaller nose and ears, and upward-slanting eyes. Most people with Down syndrome also have mild to moderate intellectual disabilities and delays in motor, speech and language skills.
Adults with Down syndrome usually require some support in their day-to-day lives. Chambers lives in a group home just down the street from his parents' house. His parents say it's a good situation for him because he can visit them frequently while maintaining his independence.
In Routt County, residential services for adults with Down syndrome and other developmental disabilities are provided by Horizons Specialized Services, which also offers a day program and vocational support for its clients. Horizons is partially funded by a mill levy approved by voters in 2005, which is an indication of the community's support for people with developmental disabilities.

"People in Routt County are really caring toward individuals with differences, which has really been a blessing to us," said his mother Val Chambers.
Phyllis Harrelson, an adult service coordinator for Horizons, attributes the public support to the small size of the community.
"They can see our clients in the community and know where their money is going," Harrelson said.
Larger communities may offer some advantages for people with disabilities, such as a greater variety of services and activities, but for Chambers, the intimacy of a smaller community is beneficial.

"I think he's much better off in a small town where more people know him," Val Chambers said.
Although he doesn't currently have a job, Kelly Chambers has worked in the past, including a job at a local restaurant. For the previous three summers, he has participated in the Community Cultivation program, which provides vocational, social and life-skills training to young adults with disabilities in a horticultural setting. Chambers liked the work of gardening and selling produce, and he especially enjoyed his small paycheck, which he often spent on soft drinks and CDs. When he's not working, Chambers is happy to be at home, playing video games or watching sports on TV.
Scott Bjorgum, who also has Down syndrome, moved to Steamboat from Fort Collins with his family five years ago. The move was a good one for him. Scott's mother Leslie Bjorgum said the Steamboat community is supportive in terms of providing jobs for people with disabilities. Scott Bjorgum, 22, has been employed by the Sheraton Steamboat Resort for three years, where he works in the kitchen. Leslie Bjorgum said he is a respected staff member and that he loves his job.

"They are just great to him," she said.
Steamboat's public transportation system has been good for Scott Bjorgum, too. He is able to ride the bus all across town by himself, and all the bus drivers know him.
"That's huge because he has his independence," Leslie Bjorgum said.

Bjorgum is on a waiting list for residential placement with Horizons. In the meantime, he lives at home with his parents, who give him as much independence as they can. He comes and goes when he wants to and often cooks for himself. Bjorgum also helps with the family business, State Beauty Supply, by helping to unload shipments when they come in.
Bjorgum and Chambers have taken advantage of recreational activities available in the Steamboat area. They ski with their families and in programs offered by Horizons and Steamboat Adaptive Recreational Sports, and in competition through Special Olympics. Each competes in various other sports through Special Olympics, such as bowling, swimming and softball.

For Bjorgum, Steamboat has been a wonderful place to live.

Scott's brother, Andrew Bjor­gum, said Scott is lucky because he is happier and more satisfied with his life than the average person.
"He is always so friendly with everybody he meets," Andrew Bjorgum said. "He just brings so much joy to wherever he's going."