Steamboat Homefinder
Visit SteamboatHomefinder.com for more real estate news.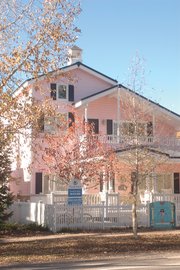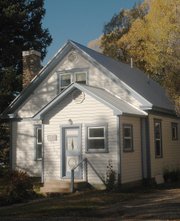 Steamboat Springs — Some noteworthy real estate activity has taken place in Old Town Steam­boat Springs this month, but there is still only a relative trickle of buyers looking for values.
A custom-designed home at the far east end of Spruce Street was just beginning framing Wednesday close to where Butcherknife Creek flows against the hill.
Three blocks away from Spruce, a historic little home on a triangular lot at 228 Logan St. sold Oct. 6 for $520,000.
Marci Valicenti, of High Mountain Sotheby's Interna­tion­al Realty, brought the buyers, Charles R. Crooks and Katie Lorentzen. Kathy and Erik Steinberg represented the seller, Patricia Peterson.
Although the home has only 1,158 square feet of livable space in its overall 1,782 square feet, it is among the most thoroughly restored older homes in Steamboat, and perhaps more important, has the quality buyers are universally looking for right now, Kathy Steinberg said: upside.
"Buyers are uncertain right now," Steinberg said. "They want to have equity down the road, but no one knows what might happen next. I worked with one buyer who saw the value of a home drop between contract and closing."
That uncertainty is causing buyers to focus on price and price alone, Steinberg said. But the renovations to the home on Logan Street, coupled with the room to expand, made it a value.
"It's zoned as a duplex lot, and there's ample room to add on," she said. "There's enough land to subdivide and create a second lot, but because of its shape, it might be hard. But you could legally build a caretaker's unit."
Back on Spruce Street, several doors away from the new construction that is under way, Steinberg has listed the 3,796-square-foot Steinke home at $1.15 million, or $303 per square foot, and with the high-end craftsman-style construction in walking distance of the downtown commercial district, Steinberg said she thinks it too is a value. The home was first listed at $1.5 million and made an intermediate drop to $1.29 million, she said.
Steinberg has two more million-dollar-plus homes listed in Old Town, including Towny and Jodee Anderson's Victorian reproduction at 304 Ninth St., listed for $1.3 million, and a dramatically renovated pink home at 475 Seventh St., listed for $1.5 million.
The Anderson home was built on the site of the old Steam­boat Lumber location about a decade ago.
It has great light and an upstairs master close to the other bedrooms, which appeals to the current generation of people with children who are looking in downtown.
"It was shown to a couple that really liked it, but they knew that house next door sold for $850,000," Steinberg said.
Steinberg said the Aspen-based owner of the Seventh Street home is firm on his price and can afford to be patient.
Patience is a virtue, and it may be a necessary quality for sellers in the million-plus market. There just aren't as many people who can qualify for jumbo loans in the post-recessionary economy when bank underwriters' standards have been tightened, Steinberg said.
"You get to that million-dollar marker, and you're going to have to have so many liquid assets to give the bank confidence," she said. "And even if people have cash right now, they don't want to part with it."
A lot of sellers this year think they just need that one buyer who is destined to fall in love with their home, Steinberg said. And although a well-priced home definitely will sell, it's about price and nothing else in the fourth quarter of 2010.
"Price. That is it. There's no other magic tricks in the bag."