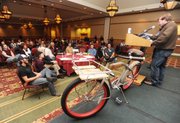 Steamboat Bike Summit activities
Today
Activities all day, including guided local trail rides and tours of Eriksen and Moots factories. A 1 p.m. guided group trail ride was canceled because of the weather.
Specific events include:
9 to 11 a.m. Family-friendly events such as bike rodeo games, bike inspections and helmet fit checks and bike safety instructions at the Boys & Girls Club of Steamboat Springs.
9 a.m. to 5 p.m. IMBA Trail Building Workshop at Rex's American Grill & Bar, from 9 a.m. to noon, and work on the Rotary Trail from 1 to 5 p.m.
Steamboat Springs — Much of the most exciting and flashy potential developments presented Friday, the second day of the three-day Steamboat Bike Summit, involved singletrack trails and a downhill park proposed for Steamboat Ski Area.
Tim Young, one of the day's first speakers, insisted that developing more singletrack miles and breaking ground on a downhill mountain bike park should be only part of Steamboat's efforts to earn the title of Bike Town USA, however. Extending the Yampa River Core Trail and developing other similar pathways and safer streets for bikers and walkers can be just as important, he said.
"It's not either-or. It's both," said Young, the executive director of the Friends of Pathways program in Jackson, Wyo. "Moun­tain towns like Steamboat can really benefit from having a good, well-connected system like this town already has a good start on. Those pathways can have a tremendous value."
Jackson has about 50 miles of paved bike paths weaving through a town remarkably similar to Steamboat in size and economy. Nearly 40 more miles are being constructed in nearby Grand Teton National Park, and small additions constantly are being suggested and built in town.
Much of that is thanks to Young's organization, and Friday, he offered Steamboat's cycling community tips on how it, too, can develop an extensive network of paved trails that will benefit not just the wild riders of the downhill, but also families and tourists.
"As you expand the Yampa Core Trail and connect additional attractions, that will be good for you and your families and people coming to visit Steamboat," Young said.
Jackson's commitment to paved bike paths began nearly 20 years ago, and Young said a key to its growth was an aggressive pursuit of financing, often in the form of grants, and efficient management of volunteers by a small but full-time paid staff.
That small paid group championed the efforts to build the pathway system and also lead the fight for complete streets that are designed with pedestrians and bikes in mind.
"That's one of the more important things you can do to take yourselves to the next level," he said about full-time employees. "It does cost money, but I guarantee this community can afford it. You can do it, and the benefits are substantial."
He found a captivated audience, many eager to expand Steamboat's signature Core Trail and improve signage on and around it to help users.
The trail runs seven miles, but proponents would like to see paved trails extended to connect to the ski resort and the condos surrounding it, as well as schools and other parts of town.
"One of the top comments we get is 'extend the Core Trail,'" Steamboat city engineer Janet Hruby said. "Based on the layout of our town, that could be the connector to a lot of different places."
Currently taking on the city's bicycling interests in addition to other duties, she agreed that another full-time position to oversee such projects may be the best way to make it all happen efficiently.
"I've taken that on somewhat of my own initiative. I'm fitting it in where I can," she said. "This summit wouldn't have happened just with volunteers. It takes so much commitment that someone may need to take it on full time. We can patch together volunteer efforts for a little longer, but at some point, it would be helpful to have one person full time coordinating all the groups and focusing in biking."
Ski area plans
Summit-goers were inundated Friday with inspiration as the bulk of the summit's speeches filled those in attendance in on cycling initiatives in other cities around the country.
Ryan Schutz, the regional director of the International Mountain Biking Association, brought encouraging words, commenting that Steamboat's current singletrack stockpile compared favorably to many mountain towns that are considered much more regular biking destinations.
"I hope you all understand the assets you have," he said.
Dan Grunig of Bicycle Colorado outlined statewide efforts, and Chris Hagelin of Boulder spoke about his city's renowned efforts to get commuters out of cars and onto public transportation, bikes or walking paths.
"Nothing in the world can take the place of persistence," he said, highlighting the improvements to the city's trail network and public transportation systems in the past 20 years.
Sarah Uhl left half the attendees ready to apply to work with her at New Belgium Brewery in Fort Collins after she described her company's efforts to become one of four top-tier Bicycle Friendly Businesses in the country.
The afternoon's sessions were dedicated to downhill mountain biking and the freeride park Steamboat Ski Area hopes to install starting in spring. Tom Prochazka, a trail designer for Gravity Logic, spent a month in Steamboat during the summer canvassing Mount Werner and mapping out the first two trails of what ski area officials said will be a large, multifaceted bike park.
"I saw the base area during the summer," he said. "It was pretty dead. Put a bike park in there, and it will be vibrant."
He said Steamboat's terrain will help distinguish it from similar parks in the region, including another he helped design in Winter Park.
"You'll have a really cool product here," he said. "Your product will be different than Winter Park's. Winter Park is growing its business nicely, but they will help grow your business, and you will help grow theirs.
"This sport is still in its diapers, and those who get in now are the ones who will benefit."
The ski area's Jim Schneider closed out the day's official speakers by outlining the plans for the bike park and several other cycling developments on the mountain.
He said Creekside Trail, the site of controversy as downhill riders have sought to make the multiuse trail one-way, will be signed as a one-way trail early next season. It will revert to its traditional two-way, multiuse status after the first of the Gravity Logic-designed trails become operational, perhaps in the middle of summer.
He also said that a downhill jumps trail, not yet designed, will be built as soon as possible and that it wasn't included in the initial Gravity Logic work because it's slated for terrain that was being logged this summer.
He said tentative plans call for as many as 35 trails on the mountain.
"How fast we can get there, I can't tell you," Schneider said. "But we think this can all be a very good thing."