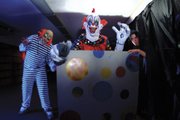 Past Event
Friday, October 22, 2010, 6 p.m. to 10 p.m.
Colorado Mountain College: Alpine, 1275 Crawford Avenue, Steamboat Springs
All ages / $5 - $10
Past Event
Saturday, October 23, 2010, 6 p.m. to 10 p.m.
Colorado Mountain College: Alpine, 1275 Crawford Avenue, Steamboat Springs
All ages / $5 - $10
Steamboat Springs — This year's Screamboat Chamber of Horror will treat those brave enough to blasts from the past and new thrills and chills, organizer Jimmy Westlake said.
Westlake, an astronomy and physics professor at Colorado Mountain College's Alpine Campus, created the annual haunted house 12 years ago.
"Our challenge every year is how are we going to make this bigger, better and scarier," he said. "After 12 years, we really have to stretch our imaginations. But I think this is going to be the best year ever."
Screamboat will run from 6 to 10 p.m. today and Saturday at $5 per ticket at Monson Hall. The ticket cost increases to $10 for the guided 30- to 40-minute tours during Halloween weekend, Oct. 29 to 31.
Children younger than age 12 are encouraged to have an adult accompany them through the haunted house. It's not recommended for children ages 5 or younger.
Westlake said patrons could expect to see old favorites such as Bob and Dave's haunted dorm room and the UFO and alien room. But he said faculty, staff and students have been working hard to create new sights and frights.
There will be a room where engineering students have rigged mechanical hands to come out of a wall to grab people as they pass, Westlake said. He said in another room, a moving wall with soft spikes would "crush" anyone who enters.
And Westlake said the 35 faculty, staff, alumni and current students working to put on Screamboat will be using more of Monson Hall this year.
Proceeds from ticket sales will benefit CMC's Sky Club, the astronomy club.
Westlake, the club's adviser, said the money would be added to its scholarship fund and help pay for field trips. For example, Westlake said he's taking 25 students to the Mount Wilson Observatory, a historic turn-of-the-century facility in Pasadena, Calif. He said the students would stay overnight, looking at the night sky through a 60-inch telescope.
"Folks coming to the haunted house will help create that experience for the 25 college students," Westlake said. "I've visited it one other time with the Sky Club. It's a life-changing experience to look through a 60-inch telescope. It's amazing."
Westlake said he hopes the record of 1,014 visitors to Screamboat is shattered this year, and he's confident it can happen.
"There will be moments of laughter and moments of extreme terror," he said. "Some of our skits go for the funny, and some go for the fright. Our challenge is to try to bring out all the emotions in a person."
Asked whether he thought that would happen, Westlake said, "there's no doubt in my mind."