Past Event
Saturday, October 23, 2010, noon
Tread of Pioneers Museum, 800 Oak St., Steamboat Springs
Not available / Free
Past Event
Saturday, October 23, 2010, 5 p.m.
The Mugshot Coffee Shop, 116 Main St., Oak Creek, CO
Not available / Free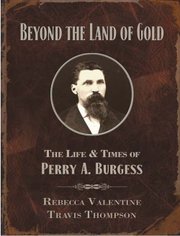 Steamboat Springs — Perry A. Burgess almost had it all: a successful banking business on the Front Range, a family and a home in Steamboat Springs and gold prospects across the state. But he never achieved one of his deepest desires.
His autobiographical writings and diaries never were published — and credited to him — before his death in 1900.
Travis Thompson, a descendant of Burgess' uncle, Levi Cheney, would have made him proud.
Thompson, who lives in Missouri, and Windsor-based writer Rebecca Valentine compiled a 500-page book of Burgess' written recollections, extensively detailed diaries and historical information, called "Beyond The Land of Gold: The Life and Times of Perry A. Burgess."
From his life running cattle along the Bloody Bozeman Trail to his instrumental role in the founding of Steamboat, Burgess' legacy runs deep in the veins of Colorado history.
"He is kind of like a Forrest Gump character," Valentine said. "He just kept finding himself in all these historical situations.
"I think he was incredibly intelligent and a visionary. He seemed to know that what he was living was worth preserving."
Valentine and Thompson will make two appearances in Routt County on Saturday to talk about and sign copies of the book. The first session will be at noon at Tread of Pioneers Museum. They also will appear at 5 p.m. at Mugshot Coffee Shop in Oak Creek.
Candice Bannister, Tread of Pioneers executive director, said Burgess was an integral part of Steamboat history when he lived here from 1885 to 1900.
"I think the primary thing is for people to discover some of the important people and their contributions to our area's history," she said about Saturday's event. "I think the best part will be being able to meet the authors and find out their process."
The project began when Thompson was cleaning out a family house in Independence, Mo., where many Cheneys and Burgesses settled. He found old photos and accounts of Burgess' adventurous life.

Captivated by the story and his family's connection to the tall, bearded man, Thompson did more digging and came across an obituary that divulged Burgess had written more than 30 essays for the Steamboat Pilot that were published from 1896 to 1900.
But the byline underneath read only "For the Steamboat Pilot."
Those detailed and literary essays, called "Pioneer Recollections," are punctuated throughout the book by Burgess' extensive diaries and logs of everyday life on the Western Frontier. He wrote about hunting for wild game every day, prospecting for gold, sickness and burgeoning business in Boulder.
For Valentine, the wild West spirit of Burgess and his tale is what drew her in to the project.
She called him a Renaissance man in a time before the term was even used.
"He never was afraid of who he was," Valentine said. "The thing I got the most out of is not to be afraid to take risks.
"He grew with a sense of wanderlust and he followed it. I love that about him."
Thompson echoed Valen­tine's admiration for the man whose life they spent years poring over.
"It was the story that captured me," he said. "I knew it was a great story, and it really taught me that I could do anything. I could put this book together. I saw Perry trying over the years to become published. I thought, 'This is the Internet age, and surely I can do something.'
"I think he would be ecstatic."