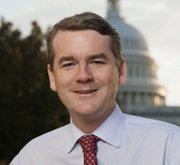 For the past 20 months, I have traveled 30,000 miles across the state. I've met with Coloradans in blue parts of our state and red parts of our state to hear their thoughts and their ideas on how we can build a brighter future for our kids and our grandkids.
Part of our national creed is the thought that every generation of Americans should be able to go further than their parents. But today, this national creed is profoundly at risk, largely because my generation has not been faithful enough to our grandparents' example.
All across the state, people have told me they are concerned about the future — not just theirs, but that of their children and grandchildren.
And they're deeply worried we're not going to have the guts in Washington to make the hard choices to turn this thing around.
And who can blame them?
All they see from Washington is needless partisanship paralyzing their government and career politicians more interested in pandering to the extremes than they are in working together to get the job done.
This has to change. And I think my experience in business, in city government and reforming public schools has prepared me to make this change a reality.  
We need to work together to support small businesses, create jobs and build an economy focused on investment and American ingenuity.
We need to break our dependence on foreign oil by building a new energy economy that creates jobs that can't be shipped overseas.
We need to make sure we're fulfilling our promise to America's veterans, our troops and our military families.  
We need to look for new ways to reform our schools so our kids have the education they need not just to survive, but to thrive in the global economy.
And we need to start making responsible choices instead of saddling our kids with a debt that threatens their choices.   
We can keep our promise of one generation to the next in this country: that our job as Americans and Coloradans is to leave more opportunity to our kids and our grandkids.
Our job at this moment is to come up with common-sense solutions to the problems we face and lift up the common aspirations we all have — as Democrats, independents or Republicans — for our kids and our grandkids for our state and for our country.
What we don't need to do is scream at each other.
What we don't need to do is play the political games they're playing in Washington.
What we need to do is embrace our optimism and independent spirit and work to move this country, and our economy, forward — not revert to the same failed policies that drove us into this mess and cost 8 million Americans their jobs.
We need to link the aspirations of our founding fathers to those of our children and our children's children, and in doing so, restore the promise of the American Dream.
Sen. Michael Bennet is a Democrat running for election to the U.S. Senate seat to which he was appointed in January 2009.