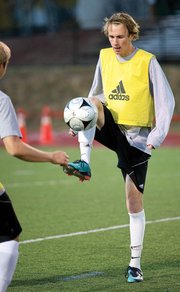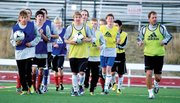 If you go
What: Steamboat Springs High School soccer at Moffat County
When: 3:30 p.m. today
Where: Moffat County High School, 900 Finley Lane, Craig
2010 Sailors boys soccer schedule
Steamboat Springs — There's no great rivalry between the Steamboat Springs and Moffat County high school boys soccer teams.
Steamboat, a regular near the top of the Western Slope League standings and in the postseason in recent years, has had the better hand in the series, winning three of four heading into this season.
"Certainly it's nothing like it is between the schools in football or basketball," Steamboat soccer coach Rob Bohlmann said Wednesday.
There will be no love lost between the teams when they clash today, however. Moffat County beat the Sailors, 5-1, earlier this season, but even that doesn't figure to factor high into players' motivation.
The teams play at 3:30 p.m. today in Craig in the last game of the regular season, and the winner of the Steamboat-Moffat games advances to the postseason.
The loser goes home.
"I'm getting kind of nervous," Steamboat senior Evan DePuy said. "It's cool being a senior going into the last league game like this, but it's also kind of sad because if we lose, it's done."
This season's Sept. 16 showdown may not serve as the day's prime motivation, but the Sailors are hoping it serves as a lesson.
Just what the lesson is, they're still not exactly sure. The Bulldogs blew open a scoreless game in the second half, a surge keyed by senior Tracy Mendoza. He converted the rebound off a missed penalty kick for a 1-0 lead, opening the gates as his teammates poured in four more goals, three coming in an eight-minute stretch.
"That game came down to a 12- or 15-minute period where Moffat just couldn't do anything wrong," Bohlmann said. "We had felt in the first half some of the adjustments we made were throwing them off their rhythm and that we would be able to create a few things on our attacking half. … Then they got up 1-0, we were chasing and they were taking their game to us."
Moffat County's five goals in that game was the most Steamboat surrendered all season. The Sailors are confident they can avoid a similar fate in today's rematch. That effort will have to start on defense.
"They have two talented strikers, so we have to stop those balls from coming out of the back and now let their forwards keep it," DePuy said. "If we can do that, we can shut them down."
Steamboat has won two straight and five of six, the only blemish a 3-2 overtime loss against Battle Mountain that gave the Huskies the league championship and one of the two playoff berths up for grabs.
Steamboat beat Eagle Valley on Tuesday night to end the Devils' playoff hopes and keep its own alive.
Now, the Sailors once again play with no margin for error.
"We can win," DePuy said. "We're peaking right now. We're playing really well."