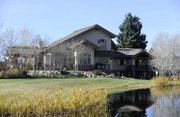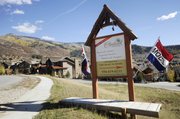 A litigious history
The disagreement between Brooks Kellogg and Stephen Bunyard stemmed from two high-dollar lawsuits filed by Bunyard's company against Kellogg and his companies.
In a 2004 civil case, Bunyard, through First Land Development, sued Eagle Glen, of Steamboat Springs, because of a development (then named Eagle Glen, later Chadwick Estates) that was to occur in Steamboat near the base of Steamboat Ski Area.
According to the complaint, filed in District Court, First Land and Dana Shires each put land into a real estate development with Eagle Glen LLC in March 2001.
First Land held 25 percent ownership of the project. Kellogg held 25 percent, and another of Kellogg's companies, Rubicon, held another 25 percent. Shires, who was not named as a defendant or plaintiff in the lawsuit, owned the final 25 percent.
Steamboat-based lawyer Reed Morris, who is representing Bunyard in both cases, said Eagle Glen then sold the property to Eagle One without Bunyard's consent in a deal that closed March 31, 2003. Before that, according to court documents, Eagle Glen tried to buy out Bunyard's company and Shires, but they turned down the offer.
"Our client was one of the landowners and silent investors," Morris said. "First Land's claim was that Mr. Kellogg had conveyed the property to a new development entity without any right or authority."
Eagle One was a company registered to Kellogg that went on to change its name to Chadwick Estates LLC in August 2003. That company is registered to Richard Friedman.
The suit went to trial in Routt County, but on the fourth day, Kellogg and Chadwick Estates settled with First Land for $2.38 million plus interest, for a total of about $2.5 million. A judge agreed to that settlement June 30, 2010.
Although the suit is mostly settled, Friedman, Chadwick Real Estate Group's managing director, is facing contempt charges and is scheduled to be in court Dec. 9 for a hearing.
In the second suit, filed this year, AMT LLC, another of Bunyard's companies, sued Friedman, Kellogg, Chadwick Estates and Chadwick Real Estate Group for the development of a townhome in Chadwick Estate Villas, 1345 Eagle Glen Drive. The purchase price for the unit was set at $2 million, and, according to the lawsuit, Chadwick Estates agreed to sell the unit and pay AMT back the $200,000 invested plus interest and $307,500 in profit.
The lawsuit alleges that none of the payments were made. Fourteenth Judicial District Judge Shelley Hill ordered the two sides to go into arbitration and to report back to her in 2011.
— Zach Fridell
Steamboat Springs — Steamboat Springs real estate developer Brooks Kellogg was arrested Tuesday at Denver International Airport after giving $2,000 to an undercover FBI agent posing as a hit man, according to documents from U.S. District Court in Denver.
The documents said the money was intended as a payment for expenses to kill a Florida man who settled for $2.5 million in a lawsuit against business entities owned by Kel­logg and Richard Friedman, also of Steamboat.
Kellogg, 72, is the managing member of Chadwick Real Estate Group in Steamboat and owns the Old Pilot Building at 1041 Lincoln Ave. He owns a home overlooking Rollingstone Ranch Golf Club in Steamboat Springs.
He is a part-time resident of Steamboat and also has homes in Chicago and Hays, Kan., according to an FBI affidavit obtained from the U.S. Attorney's Office.
The affidavit alleges that Kel­logg conspired in an effort to kill Stephen Bunyard, of Destin, Fla., whose corporations settled for $2.5 million in a lawsuit against Chadwick entities. That judgment now is in collection, the affidavit stated. A second suit for $500,000 is scheduled for arbitration in February.
Reached on his cell phone Thursday, Bunyard said he wasn't sure how he felt about the alleged incident.
"I don't know what my reaction is — I'm not used to having a contract put out on my life," he said. "This is the first time it's ever happened.
"This has been a rather stressful day, if you can imagine that."
In the affidavit, the FBI stated that Kellogg said Friedman, Chadwick's managing director, was aware of the attempted hit deal that unfolded in a DIA concourse.
Friedman denied having any knowledge of the circumstances that led to Kellogg's arrest.
"I have had absolutely no involvement whatsoever in this," Friedman said by telephone from his Steamboat home. "This has come to me as a complete shock."
He said he hadn't seen Kellogg in a month.
Friedman said one of his corporate lawyers contacted the U.S. Attorney's Office on Thursday. Friedman said he also spoke with law enforcement himself but declined to specify the agency.
"They were very satisfied with my statement," he said. "I'm not only not involved, I didn't even know what was going on."
Friedman said he had not hired a lawyer specifically for the situation, and he added that he'd be in his Chadwick office today, "business as usual."
Kellogg is a member of the Rotary Club of Steamboat Springs and owns "office buildings and shopping centers in Chi­cago and Steamboat Springs," according to the Chadwick website. The site also states that he was born in Oberlin, Kan., and graduated from Fort Hays State University in Hays, Kan.
Citing monitored phone calls, e-mails and online instant messages, the FBI affidavit details a correspondence in recent months between Kellogg and a 47-year-old Clifton woman. Clifton is northeast of Grand Junction. The FBI stated that although the woman has a lengthy criminal history in two states and "has provided misleading information and inaccurate information in a number of respects," two principal events corroborated her allegations.
The first, the FBI stated, was an Oct. 5 phone call between the woman and Kellogg monitored by two FBI agents. In that call, the person identified as Kellogg agreed to talk with the would-be killer and told the woman Friedman knew about the "hit."
"Not true," Friedman said Thursday, referring to any allegation in the affidavit about his involvement. "Not true."
The second event, according to the FBI, was a series of monitored phone calls between Kellogg and an undercover FBI agent that set up and led to Tuesday's meeting at DIA.
The FBI also stated that the woman has received more than $13,000 in four wire transfers since July 19, from the Chadwick Real Estate Group business account at Vectra Bank in Steamboat. The money went to a Chase Bank account in Wilcox, Ariz., that the woman shared with her husband, who the FBI stated was the "contracted killer." The total transfers included a $6,000 wire sent Sept. 10.
The woman "alleged that this money was for the contracted killing," the affidavit states. The FBI also stated that the woman said she was Kellogg's mistress.
The affidavit states that Kel­logg met the undercover agent on a DIA mezzanine — Concourse A, near Gate 34 — Tuesday afternoon with $2,000 in his pocket "for additional expense money to commit the contracted killing."
The FBI stated that the agent showed Kellogg a picture of Bunyard, and Kellogg replied, "That's the guy."
The affidavit also states that the undercover agent said, "You're the customer here," and "You want him killed?" to Kel­logg, who replied, "Yeah."
After the agent asked Kellogg if he had "any other jobs for me," according to the affidavit, Kellogg said: "Yeah. I've got some other things in mind."
The FBI indicated the conversation's tone was matter-of-fact.
"At no point in the conversation did Brooks Kellogg express any reluctance to having Stephen Bunyard killed," the FBI stated. "At no point in the conversation did Brooks Kellogg make any statement that he wanted any other, less serious, action taken." The U.S. Attorney's Office said in a news release that Kellogg is charged with one count of use of interstate commerce facilities in the commission of murder-for-hire.
If convicted, the Attorney's Office stated, he could get as many as 10 years of imprisonment and a fine of as much as $250,000.
Kellogg is being held without bail, and a detention hearing is scheduled for 10 a.m. Monday, the Attorney's Office said. Kellogg appeared in federal court in Denver on Wednesday and was advised of the charge against him and its potential penalties.
FBI Denver spokesman Dave Joly declined to comment further on the investigation or on the agency's interest in Friedman.
The Denver Post reported Thursday that Denver lawyer Larry Pozner has been hired to represent Kellogg.
"I'm just trying to find out what is going on," Pozner told the Post. "You have question marks and no answers."
Pozner told the Post that Kellogg has a history as a successful businessman and an impeccable background. The FBI stated that Kellogg has no previous criminal record.
— To reach Mike Lawrence, call 871-4233 or e-mail mlawrence@steamboatpilot.com