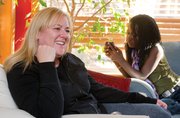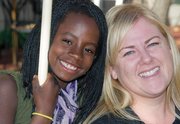 For more
Friday's "Mzungu" premiere is sold out. Film director Shane Gilbert said to watch for the movie to be released on DVD later in fall. The film can be pre-ordered at www.mzungumovie.com. She said she is looking at options for more Steamboat screenings.
Steamboat Springs — Within a month of returning to America after filming her feature-length documentary in Uganda in 2005, Steamboat Springs resident Shane Gilbert had packed her bags to head across the ocean once more.

Cutting the film was the last thing on her mind, because in that once-strange land in east Africa, there were lives she had the opportunity to change.
One of those lives was that of a now 8-year-old girl, who sat on the couch in Gilbert's temporary Steamboat home on Tuesday. Hundreds of the girl's braids dangled over a cell phone she played with as she ate her after-school snack.
"She's like no child I've ever met," Gilbert said about her adopted Ugandan daughter, Jesca. "She hardly ever cries. She appreciates everything."
Jesca, who spent her first years living under a tree in the slums, is just one story of social change, love and hope to come out of the film project.
Gilbert's life and work has intertwined with the stories of countless others along the way.
The finished documentary, called "Mzungu," which means "white wanderer" in Swahili, will premiere at 6:30 p.m. Friday at the Strings Music Pavilion to a sold-out crowd. For those who didn't get tickets, the movie can be pre-ordered online for its DVD release later this year at www.mzungumovie.com.

This will be the film's hometown premiere, paying homage to the Steamboat community that supports Come, Let's Dance, the grass-roots organization Gilbert runs that supports the social and economic empowerment of African youths.
Embarking on the journey
Gilbert originally intended to follow four young, white, middle-class men on a once-in-a-lifetime journey to save the world.

Daniel Adams, Adam Welbon, and Eric and Scott Byington set out for Africa in 2005 on a three-and-a-half month expedition to try to make a difference, with Gilbert on their heels with a camera.
They approached the exposure to suffering and destitution in different ways, but all experienced love and disgust, self-discovery and disappointment.
"We all go into it with this naiveté to save the world," Gilbert said. "We end up in a whole new place by the end of it."
They faced realities like the AIDS pandemic and a civil war ravaging communities.
"With most social justice docs, you just see these starving kids and you don't understand their language and you don't care," Gilbert said. "I thought that if we can follow someone we relate to, we might learn what people in destitute situations go through."
A message from Shane Gilbert
She found that the real story was what happened when she and her subjects returned to America. Five years of footage surface in the film, depicting a journey without a true end.

Sue Birch, Northwest Colorado Visiting Nurse Association chief executive officer, has worked with Come, Let's Dance on medical aspects of the project. She said she saw the film while in Africa recently.
"I think it's going to really solidify that a little bit goes so far," Birch said. "A little bit of help and assistance can transform things. I think Steamboat will feel so proud we've created a global exchange and successfully implemented social change."
The film has won several awards, including Best of the Festival at the Chagrin Documentary Film Festival. It also was selected for the Starz Denver Film Fest next month.
Beyond the camera
Gilbert adopted Jesca during the five-year journey of filming the movie. The two live in Steamboat part time, and for more than half the year they live in Uganda, where they continue to help the people of the slums.
"We help kids who are sick and show them how to brush their teeth," Jesca explained. "I think helping people is good, and when we help them it makes them healthier and happier."
For Jesca, it's a trip down memory lane when she visits the orphanage where Gilbert first held her in her arms.
Gilbert "came in and saw the kids and was really happy," Jesca said about the day Gilbert first visited the orphanage.
Jesca's mother, a woman of the streets, died six months later of unknown causes.
As was the case with many of the other children, no one knew the day, or even the year, that Jesca was born.
"I thought, 'That's it. I'm taking her,'" Gilbert said. "She was special. She was the first kid I held."
Opening hearts
Gilbert said she hopes the film will challenge its viewers with its images, but will also inspire hope to use the resources that Americans are surrounded by to have a positive impact on the rest of the world.

Birch said the film portrayed the reality that one person can't change the world, but one can give a little, and empower a community one person at a time.

"It gets across while we think we go to Africa to fix things, we really go to Africa to share and while we're giving and encouraging, we receive a lot more in return," Birch said. "We learn about joy and hope.
"You don't go over there without opening your heart."
Mzungu