Document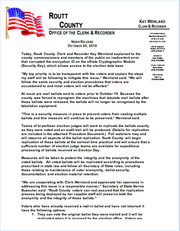 Document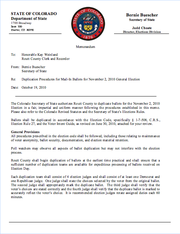 Steamboat Springs — Local voters expressed confidence in Routt County's election integrity Wednesday, while a nonprofit voter advocacy group advised voters to use new ballots after a coding error rendered unreadable all 5,773 ballots mailed across the county.
Routt County Clerk and Recorder Kay Weinland announced the error in a Wednesday news conference. Election judges will replicate the mailed ballots by hand starting Friday. Weinland said about 500 ballots had been completed and returned to the county. Those votes will be counted.
Steamboat resident Jim Fulks returned two completed ballots — his and his wife's — Wednesday. He chose not to take replacement ballots and said he felt fine about county election judges copying the two ballots.
"I trust these people," he said about county staff. "They haven't done me wrong yet."
County elections staff spent the afternoon informing voters who stopped by the office of the error. Several voters chose to surrender their mail-in ballot and vote electronically at the Routt County Courthouse Annex, where early voting is under way.
Mary Alice Page-Allen, asset and program manager for the Yampa Valley Housing Authority and a former Routt County planner, already had mailed in her completed ballot.
"I don't care, frankly," she said about the coding error. "I have full faith and trust in the Routt County Clerk and Recorder's Office. I think they'll make sure that the process holds integrity. That's their job, and they do a good job at their job."
The error stirred some surprise at Colorado Common Cause, a nonprofit group that works to increase voter confidence and promote government transparency.
"That's pretty extraordinary," Exec­utive Director Jenny Flanagan said. "Duplicating ballots is commonplace. … But rarely have I heard of an instance where all ballots" require duplication.
"Five thousand ballots, I think, is an extraordinary number," she continued. "There is room for error — we're still humans who do elections. That would be my main concern with such a high number of replicated ballots."
She said Routt County voters who still have their mail-in ballot should consider exchanging it for a new ballot or voting electronically.
"It would be my instinct that it would be better to vote a ballot that would not need to be duplicated," Flanagan said.
Weinland said she and her staff realized the problem Oct. 13 and spent the rest of the week working with the Colorado Secretary of State's office to try to find a solution.
They realized Monday afternoon that the system's security prevented any fix or "work-around." Wednesday's news conference was the first public notification.
Flanagan chose not to comment specifically about that timeframe but did not indicate significant concern.
"I think that they are smart to have tried to count those ballots without having to duplicate them," Flanagan said. "It's good that they're being transparent and going public about the problem."