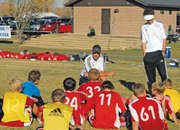 2010 Sailors boys soccer schedule
Craig — The rivalry between Steam­boat Springs and Moffat County high schools continues with the latest matchup.
But when both coaches still can say, "good game" and shake the other's hand, the relationship isn't so antagonistic.
The Sailors boys varsity soccer team finished its season with an overall record of 9-5-1, 6-4 in the Western Slope League, after a 3-1 loss Thursday against the Moffat County High School Bulldogs (11-4, 7-4) at Craig's Loudy-Simpson Park. The game was the last of the season for both teams.
Heading into the match, coach Rob Bohlmann had the playoffs on his mind, as did Moffat County head coach Rusty Cox, each knowing that the outcome of the day's game would result in one of them moving onto the next level.
"It was beautiful; it was like a wild card match," Bohlmann said. "Just a hard-fought game."
Neither defense relented for much of the first half. The Bulldogs pulled ahead with two goals by Tracy Mendoza before the game's midway point.
Bohlmann huddled with his players before the second half kicked off.
"Who here doesn't believe we can come back?" he asked his team.
The Sailors looked to be making their move as goalie Joey Haight kept his guard up against long- and short-range shots, including a midfield free kick by the Bulldogs that looked to be on its way in before he flicked it away.
On offense, Enrique Lopez nailed a goal following an unsuccessful penalty kick with less than 15 minutes in the game, working to catch up after Mendoza already had completed a hat trick.
"We were just trying to get 10 players behind the ball and playing the long ball into the boys up top," Bohlmann said. "I thought we did a fairly good job, but Moffat didn't concede pressure, and through that, they were able to win corners."
On the heels of wins against Colorado Academy and Eagle Valley, the loss is a rare downer for the end of the season, with Steamboat soccer historically preparing for the playoffs. But Bohlmann said he was happy with his team's performance, if not the end result.
"It was a great season for us," he said. "I feel like we definitely peaked at the right time and played some good soccer. We lost to a better team today, and we're just excited that Moffat will be representing our league for us."