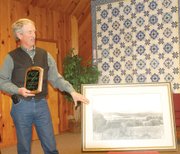 Steamboat Springs — When Hayden's Donna Hellyer stood up Tuesday night to receive the Tread of Pioneers Museum's Stanley L. Larson Award for service to the Yampa Valley, she had four generations waiting to hug her.
Hellyer, 77, has six adult children, six grandchildren, a half-dozen great-grandchildren and two great-great-grandchildren.
"We helped populate the county, that's for sure," Hellyer quipped, as a crowd of 30 applauded her.
Hellyer is a longtime planning commissioner in the town of Hayden and with Routt County government. However, she may be just as well known for her sourdough rolls and the sleigh rides she and her late husband, Del, ran for several decades at the base of Steamboat Ski Area.
"We started with just two Shetland ponies and an antique sleigh," Hellyer said, "but (Ski Area President) Glen Paulk asked if we'd do dinner sleigh rides at the ski area. We weren't the first (commercial) sleigh ride operation in the state, but I know for sure we were the first combination dinner sleigh ride. We used Right-of-Way" ski trail.
And by then, they were using draft horses.
Also honored Tuesday night with the Leckenby Pioneer Award was the late ski area pioneer, engineer turned rancher, ski jump advocate and dam builder John Fetcher.
Steak and sleigh bells
The Hellyers first came to the Yampa Valley in 1952 and became pioneers of the off-the-slope activities that ski vacationers have come to expect.
In the early 1970s, guests paid $14 or $15 for a sleigh ride up the hill to a tent, where they settled in for a chuck steak dinner with baked potato, fruit salad and sourdough rolls. The authentic rolls were made from 100-year-old starter given to Donna Hellyer by a pair of old-timers.
"It was a family operation," she said. "The kids wrapped the baked potatoes."
Hellyer recently helped develop a historical walking tour of Hayden, served on the volunteer staff of the Hayden Heritage Center and was co-chairperson of the Hayden affiliate of the Northwest Colorado Cultural Heritage Tourism Initiative.
She has served on the Hayden Chamber of Commerce Board, Yampa Valley Film Board, Hayden Artisans' Market, the garden club and the farmers market.
"Can't, never could" is her motto.
Ski area builder
Fetcher died Feb. 6, 2009, at age 97. He was a Harvard-trained engineer turned North Routt rancher who was president of Steamboat Ski Area when it installed its first gondola, championed the ski jumps at Howelsen Hill and worked to ensure water was available for agriculture and municipalities when he spearheaded the efforts to build Yamcolo, Stagecoach and Steamboat Lake reservoirs.
Awards committee member Jim Stanko observed that the presentation of the award to Fetcher's son Jay brought a piece of Routt County history full circle. John Fetcher bought part of Larson's original ranch on the Elk River when he came to Routt County to create a new life for his family.
Both men, Larson, who established a trucking company to bring more consumer goods to remote Routt County, and Fetcher, who conserved water and nurtured a fledgling ski industry, understood that they could build things and strengthen the community, Stanko said.
"They ran on parallel tracks and realized they could build something that could bring Steamboat very much to prominence," Stanko said.
Adding emphasis to Stanko's story, Jay Fetcher showed the audience at United Methodist Church a large, framed photograph of the Larson (now Fetcher) Ranch, which Jay keeps over his desk. Larson took the photograph.
"The thing I like best about this photograph is that the ranch still looks just like it does in this photograph," Jay Fetcher said.
— To reach Tom Ross, call 871-4205 or e-mail tross@steamboatpilot.com