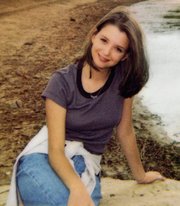 If you go
What: Rachel's Challenge public presentation
When: 6 p.m. today
Where: Steamboat Springs High School
Cost: Free
Steamboat Springs — If Steamboat Springs High School senior Katie Lettunich has anything to do with it, students will put into practice what they learn today during the Rachel's Challenge presentation.
Darrell Scott, whose daughter, Rachel, was killed during the April 20, 1999, shooting at Columbine High School, created Rachel's Challenge. The program aims to end bullying and school violence by encouraging students to treat one another with respect. It also challenges them to make positive changes in their lives, schools and communities.
A public presentation will take place from 6 to 7 p.m. at the high school. It's free and open to members of the community.
Lettunich proposed bringing a similar presentation to the high school for her senior project, but she learned that Principal Kevin Taulman already started making arrangements for Rachel's Challenge. Taulman said he attended a two-day summit about the program in June in Denver with other school leaders.
Lettunich said she jumped on board. She wanted to do something for her senior project to promote random acts of kindness that would help break up the segregation of different groups at the high school.
"No one integrates with each other," she said. "We're OK being with and talking to who our friends have been for so long. … This is an issue we want to address and behavior we want to change throughout our school forever."
As part of her project, Let­tunich said she would help make what students learn a part of their behavior — things they'll take from high school and apply to the rest of their lives. She doesn't want them to hear the presentation and forget about it next week.
After the schoolwide presentation, students in the leadership class, Link Crew, Student Council and others who want to participate can take part in a 90-minute training session.
Lettunich said those students would organize regular activities or events to continue enforcing the Rachel's Challenge message.
Taulman said he and the school leaders who attended the summit, including School Resource Office Josh Carrell, counselor Shelby DeWolfe and teacher Kelly Erickson, overwhelmingly agreed that they wanted students to see the presentation, which could help improve the culture at the school.
The presentation, which has been given to more than 11 million people live and has been featured by national media outlets, costs $3,400, Taulman said. He said the school used a grant from the Neal Family Foundation and the high school's budget to pay for it.