Election 2010
Visit
www.steamboatpilot.com/election20010
for complete coverage of this year's races and issues.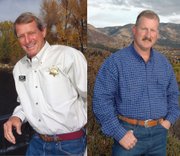 Steamboat Springs — Sheriff Gary Wall said the difference between him and Republican opponent Garrett Wig­­gins is Wall's commitment to encouraging officer discretion and rejecting a zero-tolerance approach to law enforcement. Wig­gins said that difference doesn't really exist.
The two candidates for Routt County sheriff squared off Tues­day during a candidates forum hosted by the Rotary Club of Steam­­boat Springs.
Wall, recovering from a recent trip to a Front Range hospital for a bad case of the flu, took several opportunities to emphasize his preference for "soft power."
"I am a big advocate of not having zero tolerance," he said. "Everybody who makes a mistake gets in our system. Once you get in the system, you can't get out.
Wall, a Dem­o­­­­­crat, touted div­er­­­sion­­­ary pro­­­­­­­­grams and the Routt County Drug Court as ways he has worked with youths to keep them from going to jail.
"My opponent has zero tolerance for teenagers who commit a crime," he said.
Wiggins said that as commander of the All Crimes En­­force­­ment Team, he has to be "fairly firm with serious crime."
Later in the day, Wiggins said the portrayal of him as "zero tolerance" is not accurate.
"He's trying to indicate that I'm hard on juveniles and hard on minor infractions and stuff," Wiggins said. "We can go back and check my stats, and my stats will show I do a good job at using officer discretion, and I bet 80 to 85 percent of my traffic stops ended up being a warning of some sort."
Wiggins said he was referring to records before he was the ACET commander. He has worked as an officer with the Routt County Sheriff's Office, the Steamboat Springs Police Department, and the Quincy Police Department in Quincy, Fla.
Other topics discussed during Tuesday's forum:
■ Teen alcohol and drug abuse
Wiggins: "First of all, there's no substitute for being a parent. We can't be our child's best friend, that comes later on in life when they've been raised. The DARE program, I don't know how successful that's been, but there are other programs out there we can look into. … I will look into every option."
Wall: "We do that by talking to the parents. I'm personally involved in several families here.
"Putting everybody in the system is not going to solve the problems. We need to talk with them to see if they want to help themselves, and even if they're in the system, we have a way to get them out of the system in an appropriate manner."
■ Upcoming budget cuts
Wall: "I'm going to articulate to the (Routt County Board of) Commissioners the importance of having public safety.
"The commissioners have been fair to me in my last budgets. We have some disagreements, but they've been fair, and they really have not cut my budget much. I'm pleased with that, and I think they're going to be receptive to the needs of law enforcement."
Wiggins: "First of all, if I'm elected, I'm going to go down each line item on our budget and I'm going to prioritize.
"I also want to look at the possibility of federal state grants."
Wiggins said he was a grant writer with ACET and that the Sheriff's Office has not applied for any grant money in the past four years.
■ Cooperation with agencies
Wiggins: "That's one of the things I do as task force commander, work with other local agencies."
Wiggins said the training of officers is an expensive task and that he would like to join with other agencies to save money.
"This is where I think we can bring instructors to our community and pull together with the Steamboat Springs Police De­­partment and other agencies … pay a one-time fee and get everybody trained up at one time."
Wall: Wall said his office routinely provides free training to other agencies, including the Hayden Police Department and Colo­­rado State Parks.
"It's very important we get along with these agencies and to train together. It's one of the things I am so concerned about. … I'm concerned and I'm afraid my opponent would dismantle the progress we have made in helping people, helping juveniles in the system in finding alternatives."