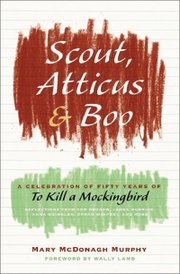 Past Event
Wednesday, October 20, 2010, 6:30 p.m.
Bud Werner Memorial Library, 1289 Lincoln Ave., Steamboat Springs
Not available / Free
Steamboat Springs — Like all the personalities she has spent the past four years interviewing, documentary filmmaker and writer Mary Mc­­Donagh Murphy clearly recalls the first time she read "To Kill a Mockingbird."
Murphy was mesmerized by the independence and strength of the young character of Scout, setting the stage for her lingering curiosity for the book and its wide-reaching impact in the five decades since its release.
"There are almost no other novels that are as beautifully written and have these indelible characters, a suspenseful plot and an important social message," Murphy said. "That's what gives it its staying power.
"It's about so many different things. It's about justice, race, tolerance and injustice, but it's also about childhood and love and loneliness. There are few novels that mean so much to so many people in so many ways."
As a part of One Book Steam­boat, a local community reading of "To Kill a Mockingbird," Murphy will offer a special screening of her new documentary, "Hey Boo: Harper Lee and To Kill A Mockingbird." The event is at 6:30 p.m. today at Bud Werner Memorial Library Hall and is free and open to the public.
In the film, personal connections and the social impact of the book are portrayed through interviews with historical and public figures.
Voices and faces such as those of Tom Brokaw, Wally Lamb, Oprah Winfrey, James Patterson and James McBride bring "Mockingbird" to life through their own unique stories.
As a part of the One Book community read, the community also has shared its stories in previous "Mockingbird" events and on the project's blog at http://onebooksteamboat.wordpress.com.
Online comments include longtime teachers who revere sharing the book with their students and a young boy who said his mother gave him the middle name "Atticus" after a main character in the book, Atticus Finch.
It's that kind assembly of stories that Murphy brings to life on a larger scale, said library adult program coordinator Jennie Lay.
"She's concentrated a good chunk of the last many years intensively pounding the pavement and talking to people," Lay said. "She's not offering her analysis of the book, but she's brought together some really great thoughts from some great, thoughtful people. She's brought them all into one place, in film and in the book."
Murphy, a former producer for CBS news segments for shows such as "60 Minutes" and "48 Hours," said she looked for figures with historical ties to the novel, whose memories would meld with the evolution of the civil rights movements, and those who simply would have something thoughtful to share about the book.

Countless interviews into the process, Murphy still wondered, "Can this person tell me anything new?"
Invariably, they could.
"Whether it was Rosanne Cash saying you should read it as a parenting manual, or Wally Lamb saying it taught him how to write a novel," she said. "And Tom Brokaw going on and on about life in a small town."
Lay said she watched the film and that the community is lucky to have this opportunity to screen a yet-unreleased documentary that is on the festival and awards circuit.
"What comes across is how heartfelt it is," Lay said. "There's this amazing lingering affection and reverence for this book and the issues it brings up."
"We're really lucky to have her. When our Literary Sojourn authors heard, across the board, their jaws dropped and they said, 'I can't believe you're bringing her here.' They really went on and on about how special it was."
Hey Boo