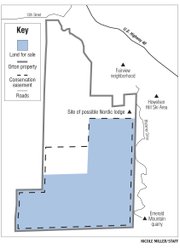 Steamboat Springs — The potential for a city purchase of 586 acres on the north side of Emerald Mountain stayed alive Tuesday night amid a wealth of public support, if not a wealth of city funding.
A packed Centennial Hall broke into cheers and applause after the Steamboat Springs City Council voted, 6-1, to approve the revised purchase contract for the site owned by Lyman Orton, whose allowance of public recreational use has made the land a treasured spot for mountain bikers and hikers. A city purchase of the land would make that access permanent. The purchase still is contingent, however, on the city's receipt of a $600,000 grant from Great Outdoors Colorado, a vital funding source that remains up in the air and could be decided at a GOCo board of directors meeting Dec. 8.
"Really, this is just a first step," city attorney Tony Lettunich told City Council before its vote.
City staff is preparing "due diligence" items that detail changes to the city's original grant proposal, for the GOCo board's review.
Councilman Jon Quinn made the motion to approve $700,000 from the city's capital projects fund, plus about $16,000 for due diligence and closing costs, to purchase the Orton property should GOCo approve the grant modification. Councilwoman Meg Bentley seconded that motion.
"Thanks to Mr. Orton for the deal of a lifetime, for his willingness to work with us," Quinn said. "I think it definitely demonstrates a commitment toward public access."
The revised purchase contract does not include a moral obligation for the city to contribute as much as $150,000 annually for the next five years to help implement recreational and community-oriented visions for the land.
Removal of that obligation was a condition of City Coun­cil's initial approval of the contract Oct. 5.
City Council President Cari Hermacinski cast the lone dissenting vote. She cited steep shortfalls facing the capital projects fund in the near future.
"In 2012, the city's going to have to make some incredibly hard choices beyond the ones that have been made," Herma­cinski said. "I think it's really unfortunate that we're making this choice in a time when the city has very little money."
On Oct. 11, the city laid off seven full-time employees as part of an effort to cut more than $700,000 in personnel funding from its general fund.
Councilman Kenny Reisman said an Emerald Mountain land purchase would be of a different caliber than most budgetary line items.
"There are wants, there are needs and then there are categories that kind of hover above those and get you in your core," he said. "Sometimes that can result in frivolous spending and sometimes that can result in spending that really gets to the heart of what a community is all about … and I think this is one of those."
Also Tuesday, City Council:
■ Gave initial support to making all of Rita Valentine Park an off-leash dog park, in a 5-2 vote with council members Walter Magill and Bentley opposing.
"Until people are ready to pop up money for a fenced, off-leash dog park, I don't think there should be an official off-leash dog park (at all)," Bentley said.
Council voted, 5-2, against converting Spring Creek Park to an off-leash area, with only council members Scott Myller and Reisman in favor. The off-leash issue is scheduled for a second and potentially final hearing Nov. 2.
■ Gave initial approval to a new lease agreement between the city and New West Inns, operator of the Iron Horse Inn on U.S. Highway 40, with a provision allowing a city audit of the inn's finances. Quinn cast the lone "no" vote, saying the audit should be conducted before the lease agreement is approved.
"I'm fundamentally opposed to taking at face value something that represents a huge taxpayer dollar commitment," he said.
The lease agreement also is scheduled for a second reading Nov. 2.