Past Event
Saturday, October 23, 2010, 7:30 a.m. to 10:30 a.m.
Yampa Valley Medical Center, 1024 Central Park Drive, Steamboat Springs
Not available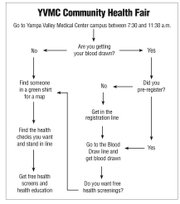 For attendees looking for the best way to get the most out of the Fall Into Health Community Health Fair at Yampa Valley Medical Center and its adjoining campus Saturday, here are a few hints.
First, decide which health screenings you would like to go to before you get to the health fair. Second, see the Yampa Valley Medical Center Community Health Fair flow chart with this story.
Finally, waiting is inevitable any time 300 to 400 people gather in one place. So why not use savvy lift-line strategy and head to a shorter line first?
In the past, there have been long lines early in the morning for the blood draw, while wait times for other health screenings are short to non-existent. YVMC Wellness and Community Education Director Lisa Bankard said that because patients need to fast for 12 hours before getting their blood drawn, they make a beeline for the blood draw before going to other screenings.
"Instead, if you can wait a little longer to eat breakfast, you could get to several screenings in the first hour and then get your blood drawn," she said. "After 9:30 a.m., the wait for blood draws tends to drop off."
No appointments are available for either the blood draws or health screenings. However, those who pre-register at www.yvmc.org/healthfair by noon Thursday may save some time Saturday morning.
"We also want people to know that you can walk in any time whether you have registered online or not," Bankard said. "The Health Fair closes at 11:30, so we recommend getting here by 10:30 if you want to participate in the blood draws and some screenings."
The Health Fair also is a social affair. There will be plenty of time for visiting with friends and neighbors as you stand in line.
The Health Fair is orchestrated by YVMC's Wellness and Community Education department, also known as Bankard, Amy Tweedy and Heather Rose. Helping this talented trio is a committee with employees from several other departments including Admissions, Business Office, Health Information Technology, Laboratory and Public Relations.
Every year, the Health Fair Committee meets and discusses ways to make the health fair better. So what's new this year?
The YVMC Diagnostic Imaging Department is excited to offer Body Composition Analysis (DEXA), thanks to new equipment. This safe, quick and painless procedure takes about eight minutes and is the gold standard for measuring body-mass composition — how much muscle mass and body fat one carries. Although the testing itself won't be available at the Health Fair, discount coupons will be given to interested health fair participants.
Our new Yampa Valley Integrated Health services will provide information about acupuncture, mind-body counseling, yoga classes, nutrition, massage therapy and other elements of this innovative program.
SportsMed's staff will be there to explain the new Concussion Management Program that includes concussion testing and treatment.
The University of Colorado Hospital's Center for Dependency, Addiction and Rehabilitation will provide treatment information.
The Northwest Colorado Visiting Nurse Association will offer low-cost ($14 each) immunizations. These include flu shots, tetanus and pneumonia.
People who plan to get a blood test and/or immunization are encouraged to bring cash or checks.

This event is just one way YVMC, your local nonprofit community hospital, likes to give back to the community by providing low-cost and free health screenings. We hope to see you Saturday.
Additional screenings and information booths include:
■ Skin checks
■ Yampa Valley Autism Program
■ Lung function
■ SportsMed Pediatric Therapy
■ Vision
■ Breast exams (VNA)
■ Hearing
■ Cardiovascular
■ Foot checks

■ Dental checks
■ Body in balance
■ Diabetes prevention
■ Blood pressure
■ Advance directives/living wills
■ Nicotine counseling
■ Emergency preparedness
■ Sleep Study Center
■ Snoring/sleep apnea
■ Stress management
■ YVMC financial assistance programs
Riley Polumbus is communications specialist at Yampa Valley Medical Center. She can be reached at riley.polumbus@yvmc.org.