Photo Gallery
Pumpkin Float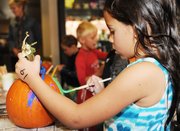 If you go
What: Cool Pool Pentathlon, upcoming children's event
When: Nov. 4
Where: Old Town Hot Springs
Details: Teams of five climb the slide stairs, slide down, run across the shallow pool, kayak and then swim or kick 25 yards. The cost is $5 per person, or $25 per team. Children can participate in teams of kindergarten through second-grade children, third- through fifth-grade children and middle school children.
Call: 970-879-1828
Steamboat Springs — Children bobbed in the water at the Old Town Hot Springs on Sunday afternoon, clutching buoyant noodles or parents, ready and waiting with numbers printed in marker on the backs of their hands.
When they got the go-ahead, they set off on their mission: Find the pumpkin whose number matched their own so they could snag it, dry it, paint it and take it home as part of an early celebration of the Halloween holiday two weeks away.
The Hot Springs hosted its third annual Pumpkin Float on Sunday, Aquatics Director Jill Ruppel said. A surge of children who hadn't pre-registered meant staff members had to scramble to grocery stores to restock the supply of orange orbs. About 60 children participated, Ruppel said, which was the largest number yet.
"We just thought it was such a pretty thing to put the pumpkins in the pool and invite the families to come in," Ruppel said. "It's just a really good time."
The cloudy weather cleared just in time, and the swimmers got a dose of sunshine.
Jim and Emma Knapp, of Stagecoach, were in the pool with their 5-year-old daughter, Katherine, who was participating in her first Pumpkin Float. The family didn't know about the pre-registration, Jim Knapp said, but Katherine still was able to sign up.
That was a relief to her parents.
"She's been talking about it for a week and a half," Jim Knapp said. "We've just been really anticipating it."
Katherine was No. 57 and wound up with one of the fatter pumpkins in the pool patch.
"I was hoping it would be the biggest pumpkin," said Katherine, who plans to be "either a princess or something else" for Halloween this year.
The family said they plan to participate next year — and to register ahead of time. Emma Knapp said she appreciated the educational element of the event.
"It's a great way to learn numbers, the numbers on the pumpkins," she said.
Inside the Old Town Hot Springs lobby, paint- and glitter-spattered children chomped on cookies and sipped hot chocolate. Many crowded around tables, dripping water onto a plastic sheet and painting up their prizes. Trails of glitter led away in every direction.
Tommy Mewborn, 7, wrap­ped red duct tape around the stem of his prize and painted it with splotches of green, red, orange and yellow. He said his pumpkin-hunting strategy was to look at his number and just go. His sister Reilly, 9, had to wait for a pumpkin, which she painted with a green and pink glittered face.
"We've done it every year," their mother, Deirdre Mewborn, said about the float. "It's a good day to get ready for Halloween."
Nearby, Katherine Knapp went to work on her pumpkin, methodically painting red and blue dots in a circle around the top of it. Libby Lukens, 11, dressed in a green Crayola crayon costume, helped supervise the paint cups. The Steamboat Springs Middle School student said she'd wanted to do community service at the event.
The paint part was easier, Libby said, than her task of making sure people who weren't part of the Pumpkin Float weren't eating the cookies. She said the Pumpkin Float was "like a giant scavenger hunt" for the children.
"I think any kid would like this because it's just that fun, and it's a fun thing to do; parents can watch," Libby said. "And then you have cookies, which is totally awesome."
Ruppel said children of all ages were welcome at the float, and she said this year's certainly wouldn't be the last.
"It's annual, so the community can count on it next year."