Election 2010
Visit
www.steamboatpilot.com/election20010
for complete coverage of this year's races and issues.
For more
■ Learn about Democratic incumbent U.S. Rep. John Salazar, of the San Luis Valley, at www.salazarforcongress.com. Call his Grand Junction office at 970-245-7107 or his Washington office at 202-225-4761.
■ Learn about Republican congressional candidate Scott Tipton, a state representative from Cortez, at http://votetipton.com. Contact him at scott@votetipton.com or 970-985-8699.
■ Also running to represent the 3rd Congres­sional District is Libertarian candidate Gregory Gilman, of Custer County. Gilman is a Stanford University Fellow with more than 20 years of engineering and management experience, according to campaign documents. Learn more at www.gilman2010.com.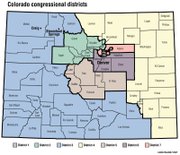 Steamboat Springs — Health care, jobs, the economy and the national deficit have been center stage in the back-and-forth between U.S. Rep. John Salazar, a Democrat from the San Luis Valley, and Republican state Rep. Scott Tipton, of Cortez, as they campaign to represent Colorado's 3rd Congressional District in a rematch of their contest four years ago.
Hoping to ride a wave of voter unrest and anger amid a recessionary economy and national unemployment greater than 9 percent, Tipton's campaign remarks repeatedly have focused on government spending, the stimulus package and the health care reform adopted this year.
He's said the past two years have seen "rabid, irresponsible government spending sprees that are going to bankrupt America. John Salazar's voted with (House Speaker) Nancy Pelosi for a budget with a trillion-dollar deficit, he voted for the failed $787 billion stimulus, and he voted to increase the national debt ceiling to over $14 trillion. Then he voted to reduce Medicare by over $500 billion."
Republican candidates across the country have cited the $500 billion figure in campaigns against Democratic incumbents who supported the health care legislation. Salazar's campaign calls the statement false.
"The law will not 'take away $500 billion from Medicare.' Instead it will slow the future growth of Medicare so that it does not increase the national debt," campaign spokeswoman Tara Trujillo said. "Medicare spending will still increase, simply the rate of increase will be curved and will ultimately save the country $500 billion over 10 years."
Salazar has campaigned on a message of the long path to economic recovery, saying he and the administration of President Barack Obama are taking the correct steps that prevented a deeper economic downfall but emerging from a recession will take time.
"What we have done has been incredible," Salazar said. "I'm really proud of what we've been able to do over the past two years."
Tipton has said if elected, he will reduce the government's non-defense spending by 10 percent across the board. That's a drop from his comments earlier this year, when Tipton spoke of slashing government in half during his primary campaign against Steamboat Springs' Bob McConnell.
Salazar has called Tipton's claims of across-the-board cuts — 10 percent or 50 percent — unrealistic, if not politically impossible.
Salazar, a member of the House Ap­­pro­priations Committee, has not shied away from his votes for the $787 billion stimulus package and the health care reform legislation made law in March. Salazar first won the congressional seat in 2004 and defeated Tipton with 62 percent of the district's vote in 2006.
In support of the stimulus package, he cites $1 million in stimulus funds for logging operations in Routt County this year to mitigate bark beetle impacts. In Routt County, he cites hundreds of thousands of dollars he has helped secure for the Stock Bridge Transit Center and improvements to Yampa Valley Regional Airport in Hayden.
Tipton supports a flat 10 percent rate for capital gains taxes and corporate taxes, to stimulate entrepreneurship, and cites his more than 30 years as a successful businessman in southwestern Colorado. He's said that experience taught him to balance a budget and create jobs.
Salazar also focuses on his roots in the district and calls himself a centrist and a farmer. A member of the Blue Dog Coalition of fiscally conservative House Democrats, Salazar voted against the bank bailout and cap-and-trade legislation.
Salazar won the 3rd Congressional District seat in a November 2004 election against Greg Walcher, of Palisade. He defeated Tipton in 2006 and Wayne Wolf, of Delta County, in 2008.
Also on ballots this year is Libertarian candidate Gregory Gilman, of Custer County.
The vast, 29-county 3rd Congression­­al District includes Routt County and all of the Western Slope and stretches to Pueblo in southern Colorado.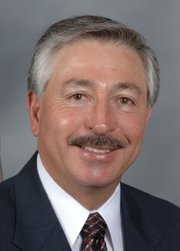 John Salazar
Democrat, incumbent
Age: 57
Residence: Manassa, in the San Luis Valley
Profession: Rancher, seed potato farmer, U.S. Army veteran, in his third term in Congress
Experience: First elected to the U.S. House of Representatives in 2004; won two re-election bids; member of House Appropriations Committee and energy and water subcommittee
■ Economy
Salazar voted for the stimulus package but voted against the $250 billion bank bailout in September 2008. He said the federal government has taken appropriate steps to resurrect the nation's economy but told a Steamboat audience last month that recovery takes time.
■ Health care
Salazar voted for this year's health care legislation and said last month that it was the "largest deficit-reduction bill in the history of Congress."
The Congressional Budget Office projects the legislation will remove $143 billion from the national deficit by 2019.
Salazar was instrumental in the 2007 opening of a community-based outreach clinic in Craig, to provide health services for military veterans.
■ Tax cuts
Salazar said in September that he supports extending the tax cuts from President George W. Bush's administration for a year across all income levels. Salazar said extending the tax cuts for a year would give time for the bipartisan National Commission on Fiscal Responsibility and Reform to formulate long-term recommendations.
"Until we find out what the deficit reduction commission is doing … it's the responsible thing to do," Salazar said about a tax cut extension.
■ Agriculture
Salazar's website states that he opposed the opening of Canada's borders for beef trade and introduced legislation to resume beef trade with Japan. Salazar also thinks U.S. agriculture can be part of the answer to the nation's energy problems. According to his site: Through the increased development of biofuels and wind and solar power, the nation can reduce its dependence on foreign energy and fossil fuels. He calls renewable energy not only good energy policy, but also good agriculture policy.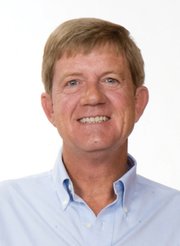 Scott R. Tipton
Republican
Age: 59
Residence: Cortez
Profession: State representative; owner for more than 30 years of successful pottery business near Mesa Verde National Park
Experience: State representative for southwestern Colo­rado district since 2008; served eight years as Republican Party chairman for the 3rd Congressional District
■ Economy
Salazar "voted for the stimulus package, he voted to triple the national deficit. … What is crushing us and going to crush our children and grandchildren is the burden of ever-increasing government debt, which John Salazar has been complicit in.
"I oppose any such attempts to pass misguided, big-government 'stimulus' plans in the future. The best economic stimulus for Main Street is to get government out of its way."
Tipton also supports a flat 10 percent rate for capital gains taxes and corporate taxes, which he says would stimulate entrepreneurship.

■ Health care
"The more we look to Obamacare, the more we discover a job-killing, tax-increasing … behemoth that we cannot afford at multiple levels."
■ Tax cuts
Tipton wants to make permanent the tax cuts approved under President George W. Bush.
"We've got to be able to get people back to work," he said in September.
Tipton said making the tax cuts permanent would not be a form of the government spending he repeatedly has pledged on the campaign trail to drastically reduce, saying it's a tax issue and "not a form of spending."
"This is a tax increase," he said about allowing the cuts to expire. "We're going to be taking away money people already have."
■ Agriculture
On his website, Tipton calls agriculture the economic backbone of the 3rd Congressional District, the state of Colorado and the nation. To preserve and protect rural communities and farms and ranches, the site states, the nation must work to break down the regulatory obstacles that are currently inhibiting their success. He also says he will "fight tirelessly to protect private property rights."