Election 2010
Visit
www.steamboatpilot.com/election20010
for complete coverage of this year's races and issues.
Job description
From the Secretary of State website, www.sos.state.co.us: The secretary of state is an elected member of the Executive Branch of Colorado's state government. Elected every four years, the secretary of state serves as the chief executive of an office that oversees and administers laws including Colorado's business and commercial statutes pertaining to profit and nonprofit corporations, limited liability companies, partnerships, trade names, secured transactions under the Uniform Com­­mercial Code and miscellaneous liens, Colorado Election Code, Voter Regis­tration Law, Campaign Finance Laws, Lobbyist Regulation, Colorado Chari­table Solicitations Act, Bingo and Raffles Laws, and Notaries Public Laws.
The basic mission of the Depart­ment of State is to collect, secure and make accessible a wide variety of public records, ensure the integrity of elections and enhance commerce.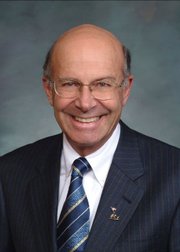 Bernie Buescher
Democrat, incumbent
Education: Accounting degree from the University of Notre Dame, law degree from the University of Colorado
Website: www.berniebuescher.com
Bernie Buescher was appointed secretary of state to replace Republican Mike Coffman, who was elected to the U.S. House in 2008. He previously had served two terms in the Colorado House of Representatives, where he served on the Joint Budget Committee and the Appropriations Committee. Before that, Buescher was appointed to reorganize the Colorado State Fair and then to serve as executive director of the Colorado Department of Health Care Policy and Finance. He served for 10 years as president of West Star Aviation and practiced law before that.
On the issues:
■ Says he cleaned up a voter database that once contained 5.7 million files and hundreds of thousands of duplicates; claims all duplicate files have been merged
■ Pushed for an online voter registration system that he says has resulted in tens of thousands of entries, thereby reducing the workload and paper costs of county clerks across the state
■ Opposes recent Supreme Court decision allowing corporations and unions to spend as much money as individuals on elections, saying it further degrades an election system in which far too much money already is spent
Scott Gessler
Republican
Education: Undergraduate degree from Yale University, law degree from the University of Michigan, master of business administration from Northwestern University
Website: www.scottgessler.com
Scott Gessler has spent much of his career as a private election law attorney, and he has taught election law at the University of Colorado. Gessler started his career as a federal prosecutor for the Department of Justice in Washington, D.C. He then managed his family's construction company, and he served in the Army Reserves for 16 years. Gessler served on the Election Reform Commission in Colorado, which made recommendations to the General Assembly after the 2008 election.
On the issues:
■ Says Colorado's voter database is sloppy and needs to be cleaned up to remove duplicate voters
■ Proposes anti-voter fraud measures such as requiring photo IDs and proof of citizenship for first-time voters
■ Opposes allowing Election Day voter registration, which he says leads to massive fraud