Document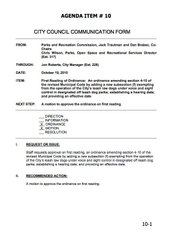 If you go
What: Steamboat Springs City Council meeting, including a discussion about off-leash park areas (item No. 10 on the agenda)
When: 5 p.m. Tuesday
Where: Citizens Meeting Room, Centennial Hall, 124 10th St.
Steamboat Springs — Rita Valentine and Spring Creek parks are one step closer to going to the dogs as the Steam­­boat Springs City Council will take up an ordinance that would allow off-leash areas at both parks.
The off-leash issue has been a perennial discussion in Steamboat Springs and recently was rejuvenated when the Steamboat Springs City Council directed the Parks and Recreation Com­­mission to work with the Res­­ponsible Dog Ownership Group of Steam­boat and residents to create off-leash areas.
The commission is asking for community input at Tuesday's meeting with the City Council.
The off-leash area will include all of Rita Valentine Park and Spring Creek Park. Spring Creek Park also continues onto county and Forest Service areas where dogs can remain off-leash to the Dry Lake parking lot on Buffalo Pass.
The main expense in the program, according to the report included in the City Council packet, will be for signs and pick-up bag containers that will be placed at several spots in each park. That cost is not yet determined. City Council members expressed support for expanded off-leash areas Aug. 3, in a 5-1 vote with Councilman Walter Magill opposing.
"Off-leash dogs with irresponsible owners are a hazard to kids, runners, bikers," Magill said at the time.
He reiterated his stance Friday and said he intends to vote against the measure again because of dog waste near the trail and potentially in the water.
He said more enforcement is necessary but said he would not vote for the measure even if it had an enforcement component because it needs to be self-enforced.
"I've got to stick up for people who don't like dogs," he said.
Councilman Kenny Reisman said dog owner responsibility also should be a component of the ordinance and said it was a big part of the discussion. The ordinance has no provisions requiring cleanup.
The off-leash parks would replace an off-leash certification program started in November 2007 that allowed owners to have dogs off-leash after passing a voice- and sight-control evidence tag program.