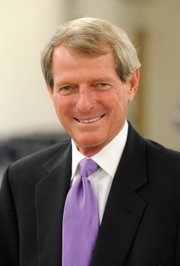 Steamboat Springs — Routt County Sheriff Gary Wall revealed Friday that he actually was taken to a Denver-area hospital after doctors discovered blood leaking in his brain, and not just because of the flu, as he had earlier reported. He remained in the hospital Friday, and his wife, Jenny Wall, said she didn't know when he would return to Steamboat Springs.
Wall was airlifted Wednesday night. On Thursday, he said it was because of complications from flu and he likely would return to the county Friday, but on Friday, he said doctors still were looking him over.
He said he has had no surgery and has no brain problems from the blood leakage. He was alert when talking on the phone and said he is not suffering dizziness or other symptoms.
"I had a very serious headache," he said. "And there's nothing neurological wrong, nothing."
He said he couldn't give a straight answer about what kind of problem it is.
"I did not have an aneurysm," Wall said Friday evening. "I don't know what it was, but the doctor I just talked to said I did not have an aneurysm."
He said it was complicated by the flu, and doctors from Yampa Valley Medical Center wanted him to travel to Denver in case he needed more serious medical care.
"They did not do surgery, but they wanted me in Denver in case they had to," he said. "I mean, the headache was just awful."
Wall, a Democrat, is in the middle of a campaign for re-election against Republican challenger and All Crimes Enforcement Team Cmdr. Garrett Wiggins. Wall was scheduled to appear at a forum hosted by the Steam­boat Pilot & Today, Steamboat Springs Board of Realtors, Routt County Democratic Party and Routt County Republican Party on Thursday night. He had said Thursday morning that he hoped to return in time for the forum.
Wall refused to disclose what hospital he is in.