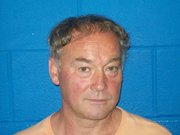 Steamboat Springs — Steamboat Springs restaurateur Marco Pauvert, 55, has been scheduled for two separate trials in the two accusations of indecent exposure leveled against him.
Pauvert was ar­­rested Aug. 25 after a woman accused him of exposing himself to her in his downtown Steam­­­­boat Sp­­­rings res­­taurant, The Epi­­­curian. Since that time, another woman went to police and reported a similar incident that allegedly took place in July.
In both cases, the women allege Pauvert emerged from a restroom fully naked while they were at the restaurant.
At a hearing in Routt County Court on Wednesday morning, Judge James Garrecht denied a request for a continuance from Pauvert's attorney, Jeffery Weeden.
Weeden told Gar­­recht the extra time would be used to review a plea offer from the Routt County District Attorney's Office and perhaps reach a resolution.
Garrecht said he knew Pauvert was not averse to going to trial — he was arrested after a neighbor reportedly saw him walking around nude in his own garage in 2005 but was acquitted of all charges.
Because of that history, Gar­­recht instead set two trial dates for Pauvert for Dec. 13 and 20.
He said the attorneys and Pauvert are free to work out a resolution before that time and that the trials could be canceled if a deal is reached.
Weeden also indicated there might be additional evidence that would assist him in Pauvert's defense, but he did not elaborate.
In an e-mail, Weeden emphasized Pauvert's successful business and that "Marco is involved in numerous charitable organizations and remains a strong supporter and member of the Routt County community."
He also suggested ulterior motives for the accusations against Pauvert.
"Sadly, there has also been a past history of animosity by certain members of this community towards him and his French ancestry," Weeden wrote. "We are confident that this firm will thoroughly investigate and bring to light the possible motives for these allegations."