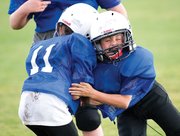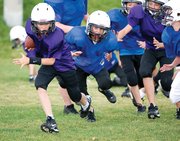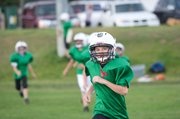 Steamboat Springs — The youth tackle football league in Steamboat Springs continued to grow in 2010, and not just the size of young players on the field.
Paul Draper, who acts as a league coordinator and referee, said this year the tackle league has six teams and 72 players. That's up from four teams and 60 players a year ago.
Draper said the city-run flag football and 8-man tackle football leagues serve as an introduction to the sport for most of the participants and act as a feeder program for the middle school programs.
"We want to give these players an excitement for the game," coach Dennis DeMara said. "We also want to teach them the basics, but it has to be fun."
The flag football league is for third- and fourth-graders, and the tackle league is for fifth- and sixth-graders.
Kate Warnke, the city's sports coordinator, said the numbers in both leagues are strong, but she said there was a surge in the number of players entering the tackle league this season. She said the growth was aided by a $2,000 grant from USA Football that allowed the league to buy the equipment necessary to grow.
"We've always been able to accommodate all the children who were on our wait list," Warnke said. "But that grant was a huge help this season."
Warnke said she wasn't caught off guard by the increase in players because many of the athletes were part of the flag football program. Numbers in that league have dropped slightly this season, with the league going from six teams to four. There are 48 players in the flag football program.
There is no place fellow coach Fred Grippa would rather be Monday, Wednesday or Friday afternoons in the fall. His two sons played in the league when they were growing up in Steamboat Springs, and he continues to coach.
"This is where the kids learn what it takes to be successful at the next level," Grippa said. "Sure, it's about having a good time, but we use the same techniques and teach many of the same basic things they are going to learn at the middle and high school levels."
The tackle league meets at Ski Town Park on Monday, Wednesday and Friday evenings. The teams practice on a regular basis and play a five-game season, typically Friday afternoons.
The team's final games of the season will take place this week with a rare Wednesday night game and the finale Friday evening. The flag football league meets Mondays and Wednesdays. That league is scheduled to play the final games of the season tonight.