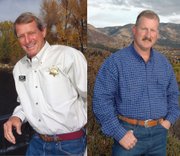 Steamboat Springs — Routt County sheriff candidate Garrett Wiggins reported that 50 to 100 of his campaign yard signs, including nearly all his signs in Old Town, were stolen during the weekend.
A number of Wiggins' signs also appeared in his opponent Routt County Sheriff Gary Wall's yard, where someone taped Wiggins' signs over Wall's.
Wiggins said he is offering a $500 reward for information leading to the arrest of a suspect in the case. Wiggins said he started getting calls from supporters and found that signs were removed across the downtown Steamboat Springs area.
Wall said he also has had signs stolen this year, but no more than in other campaigns. Wall said his wife turned the Wiggins signs over to the Steamboat Springs Police Department.
Police Detectives Capt. Bob DelValle said Wiggins made a report about the incident and detectives are working on the case.
Wiggins, as the All Crimes Enforcement Team commander, is employed through the Police Department.