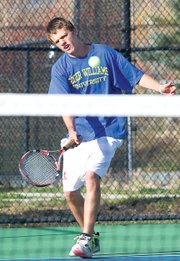 Sailors tennis first-round draws
No. 1 singles
Steamboat's Keegan Burger vs. Bishop Machebeuf's John Lambert
No. 2 singles
Steamboat's Mirko Erspamer vs. Broomfield's Zack Kusick
No. 3 singles
Steamboat's Jack Burger vs. D'Evelyn's Matthew Jordan
No. 1 doubles
Steamboat's Luke Farny and Kyle Rogers vs. Golden's C.J. O'Neil and Jacob Vaughn
No. 2 doubles
Steamboat's Gabri Erspamer and Colin Green vs. Alexander Dawson's Matt Stern and Ryan Smith
No. 3 doubles
Steamboat's Stefan Sortland and Erik Owen vs. Evergreen's Cameron Sadler and Garrett Smith
2010 Sailors boys tennis schedule
Aug. 20: Steamboat 4, Aspen 3
Aug. 21: Evergreen 4, Steamboat 3
Aug. 27 Boulder 6, Steamboat 1
Aug. 28 Kent Denver 5, Steamboat 2
Sept. 10 and 11 at Western Slope Invitational in Grand Junction, TBA
Sept. 18 vs. Greeley West at Fossil Ridge, 12:30 p.m.
Oct. 1 at Mullen, 3:30 p.m.
Oct. 2 vs. Cheyenne Mountain at Colorado Academy, TBA
Oct. 2 at Colorado Academy, TBA
Oct. 7 and 8 at Regionals in Grand Junction, TBA
Steamboat Springs — There was guarded optimism as the Steamboat Springs High School boys tennis team wrapped up its last practice in town Wednesday at the Tennis Center at Steamboat Springs.
With today, Friday and Sat­urday's Class 4A state tennis tournament at Pueblo's City Park, Steamboat's seasonal record isn't all that impressive. In duals, the team finished less than .500, at 4-7, struggling to find consistency most of the season.
But after the team's 13th straight regional title, there was a burgeoning sense that the Sailors may be hitting their peak at the right time.
During the regular season, "we were playing, really, the state's top players," said Steamboat coach John Ara­gon, whose team's past five of six matches were against Colo­rado's elite. "Our kids competed well. We got beat, but we competed and played well. We gained some respect. At regionals that was, as a team, the best we've played."
For a Steamboat team that had high expectations after last year's state meet, but was met with injuries and player defections this year, today's opening round may be a way to redefine the season.
Steamboat should have a chance to medal at multiple positions and to finish in the top five as a team.
Singles players Keegan Burger, Mirko Erspamer and Jack Burger qualified. The No. 1 doubles team of Kyle Rogers and Luke Farny, the No. 2 doubles team of Gabri Erspamer and Colin Green, and the No. 3 doubles team of Stefan Sortland and Erik Owen also qualified.
"We went into the season and dropped some of our goals down when we lost some players," Jack Burger said. "But we actually really do have a talented team."
The key at the state tennis tournament is getting through today. A first-round loss all but ruins a player's shot at medaling. Aragon said he thinks all nine players could medal, depending on how they play and a little bit of luck.
The most interest probably surrounds Steamboat's No. 1 singles player, Keegan Burger.
Burger was slotted to play No. 2 singles this season, but No. 1 player Jamey Swiggart went down with an injury.
Burger has lost just one match this year — to a Class 5A opponent — and enters this weekend's draw as the No. 1 seed.
"It's definitely big," said Burger, whose semifinal draw with Niwot's Harrison Lang could be the biggest obstacle to a state title. "I don't want to look too far ahead. I still look at myself as playing as the underdog. It helps my mindset."
Cheyenne Mountain, Niwot, Mullen, Kent Denver, Colorado Academy, Fossil Ridge and Steamboat are expected to battle for the team title.