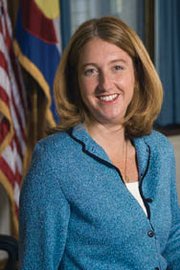 Four years ago, voters gave me a wonderful opportunity to serve as Colorado state treasurer. In doing so, they entrusted me with the responsibility of keeping our investments safe, of finding ways to save for the future and of making our state finances more transparent than ever before. I made it my priority to invest wisely in our future, to keep our investments safe and to make government more accountable.
■ Keeping our investments safe:
When I ran for office, none of us knew that we soon would be facing the largest economic downturn in generations. That downturn means families across Colorado now are facing tough times, just as the state is. From my first day in office, I took a responsible approach to managing the state's $6 billion pool of investments. Long before the financial crisis started, I moved state assets into safer investments and took steps to reduce the risk that we had on the state's investments.
Again and again, Wall Street bankers came to me with get-rich-quick gimmicks. And again and again, I said "no" to these risky schemes because I don't think we should ever gamble with taxpayer money. Because of my focus on fiscal responsibility, we have avoided the losses that other cities and states now are facing across the country. Colorado's financial position stands in stark contrast to many other states across the country that face looming debt, lost millions in taxpayer dollars to Wall Street and have had their credit downgraded. I am proud to say that during the worst economy in more than 50 years, Colorado's investments have grown every quarter that I have been in office, and our state's credit remains strong.
I also called for the Legislature to take action to increase Colorado's rainy day fund. Our state needs to save more in times of budget surpluses so that we can cover deficits in hard times such as these. It's not enough to just be careful with our investments. We also have to be prudent and find ways to save.
■ Keeping government accountable:
Government must be accountable to the public. When I became treasurer, I changed how we do business. One of my first actions was to make the state's financial information available online. The state's investments, cash flow, daily balance sheets and check book now all are available on the Treasury's website.
I also created Colorado Tax Tracks, the first program of its kind in the nation. For the first time, we are providing you with direct information about what you buy with your tax dollars. Tax Tracks shows how much you personally spend on K-12 education, public safety, road repairs and all other services paid for with state tax dollars. I encourage you to visit Tax Tracks on the Treasury's website and be the judge of whether you are getting value for your tax dollar. 
■ Investing in our future:
During the past four years, I have focused on fixing our aging infrastructure. We have rural schools in Colorado that were built almost 100 years ago and aren't adequate for educating Colorado's students. With BEST, we are partnering with local school districts, including the North Routt Community Charter School, to fund school repairs and replacements. It is the largest investment in school construction in Colorado history. This program is providing the resources that children in Routt County and across the state need to succeed.
I am running for re-election because I love this state. I want to keep fighting to protect our investments from risk so that they keep growing. I want to keep Colorado's financial position and our credit strong. I will work to make sure Colorado has responsible fiscal policies so we can lead the economic recovery. We need investors and companies from across the country to see Colorado as a safe and attractive place to invest their money. My work as Colorado state treasurer has been focused on keeping our investments safe, making sure state finances are more transparent and government is more accountable than ever before, and making wise investments in our future. If elected, I will continue to bring this prudence and discipline to Treasury in the next four years.
Cary Kennedy, a Democrat, has served as state treasurer since 2007. She is running for a second term. Learn more at her campaign website www.kennedyfortreasurer.com.