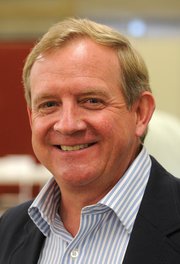 Editor's note: Steamboat Springs Democrat Steve Ivancie is running for election to state House District 57. The Steamboat Pilot & Today has invited candidates for regional and state offices to submit commentaries about their positions. Commentaries will run on the Viewpoints pages in the coming weeks.
My name is Steve Ivancie, and I am a candidate for Colorado House District 57.
For 30 years, I have called this beautiful valley my home. My wife, Diana, and I raised our daughter, Rachel, here. She graduated from Steamboat Springs High School and is now a junior in college.
I have a diverse background of work and personal experience. I attended Mesa College — now Mesa State — and Colorado State University. During my summer vacations, I worked underground as a coal miner in Moffat County to pay tuition. I have experience in the mining and construction industries and worked for 16 years as an EMT ski patrolman for Steamboat Ski and Resort Corp. For the past 20 years, I've been a project manager for Jake¹s Drafting Service, a design and build company in Steamboat Springs.
In 2001, I began my legislative career when elected to the first of three terms on the Steamboat Springs City Council. I was elected City Council President Pro-tem in 2007. In prosperous and lean years, I helped balance eight multimillion-dollar budgets. One of the formidable challenges was maintaining essential core services while sales tax revenues declined. During those years, I gained valuable experience in funding municipal infrastructure improvements, managing budgets and investments, and working on land use issues such as urban growth boundaries and annexations.
I understand the value of working with local officials and being engaged with my constituency.
I am a citizen legislator. My community service is extensive, having served on the boards of the Laurel Street School, Yampa Valley Recycles and Grand Futures Prevention Coalition of Routt County. I am currently a board member of the Yampa Valley Autism Program. I have been a member of numerous commissions and have represented our region at the Department of Local Affairs, Colorado Municipal League, the Colorado Association of Ski Towns, the Colorado Water Commission and the Steamboat Springs Rodeo Board. I had the honor of being co-chair of First Impressions of Routt County for five years, advocating for early childhood care and education with a bipartisan group including Routt County commissioners Nancy Stahoviak and Doug Monger.
I have a proven record of bringing together people of different viewpoints to achieve effective results. Some examples are the Steamboat Springs Community Center, the new Bud Werner Memorial Library, the Routt County Water Quality Database and Assessment Project and the Steamboat Springs Watershed Protection Ordinance. Each of these projects required collaborative, cooperative negotiations.
I believe the most important issues facing Northwest Colorado are getting our state's economy back on the road to prosperity, creating jobs, attracting new business and generating revenue. To accomplish these goals, we must continue to fund tourism and maintain our transportation and telecommunication infrastructure.
I support responsible energy development and extraction in Northwest Colorado. Energy use is a matter of national security, and we must cut our dependence on foreign oil. Coal, natural gas, oil, wind, solar and nuclear all need to be part of our energy picture while we aggressively develop and practice energy conservation.
I am a defender of Western Slope water rights and resources and support additional water storage projects. I will seek cooperation and collaboration between regional drainage basins, aware of the dangers of Colorado becoming a house divided when it comes to water negotiations.
I believe in government that is accountable, efficient and accessible to you, the taxpayer. We no longer have the luxury of partisan government or a partisan statehouse. Looking to score political points and making excuses are not acceptable. The economic reality is that we will have to do more with less. The state budget will need economic triage for years to come.
As your state representative, I will use my experience to focus on outcomes and solutions for all of House District 57. I will fight to invest in our children's schools, essential core services, our local infrastructure, and Colorado business's competitive ability to thrive and create jobs across the district.
I respectfully ask for your support and your vote.

Steve Ivancie is a Democrat running for House District 57. Contact him at 970-879-2179 or visit http://steve4state.com.