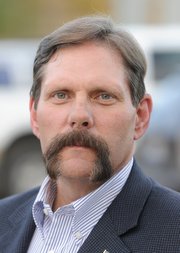 Editor's note: State Rep. Randy Baumgardner, R-Hot Sulphur Springs, is running for re-election to House District 57. The Steamboat Pilot & Today has invited candidates for regional and state offices to submit commentaries about their positions. Commentaries will run on the Viewpoints pages in the coming weeks.
For the past two years, it has been my honor to serve you as your representative in Denver. The 57th District has experienced many changes in that short time. Like most of the country, families in our communities are feeling the financial pressure of this recession. Unfortunately, many in Denver have been more interested in promoting agendas that will weaken our economy instead of looking for ways to court business to Colorado.
I have been working hard to keep Northwest Colorado strong by promoting the thoughtful, sustainable development of our natural resources. Northwest Colorado is blessed with many of these resources that will fuel our country and provide the path we need to follow to grow our way back to prosperity. But there are challenges ahead.
First, the General Assembly has to be mindful that encouraging business development means creating a business-friendly environment. Keeping taxes and fees low is key to encouraging business investment in Colorado.
Many legislators in Denver have found it acceptable to disguise their desire to raise taxes and subvert the spirit of TABOR by raising fees and eliminating tax credits on everything from automobile registrations to candy bars. I have not, nor will I, take away your right to vote on taxes that affect your business or your household income.
Second, our state budget needs to be carefully managed to ensure proper funding of necessary programs. Currently, nearly 70 percent of the state's budget is allocated to be spent on either constitutional or federal mandates. This means that there is only 30 percent of our budget that is available to cut, reallocate or otherwise manage to meet our constitutional requirement to present balanced budgets. This has led to Northwest Colorado paying more than its fair share to help balance the budget because of the large amounts of cash revenues generated from natural resource development in the region. I have fought hard to make sure those funds are fairly and consistently distributed back to the communities that produced them so that local impacts are addressed first and that the revenues that are due the state are responsibly and frugally spent.
Next, to encourage job creation we have to be vigilant to threats of increased state and federal regulation that create uncertainty and kill jobs. One of the most controversial bills this past session was HB10-1365, the so-called "Clean Air, Clean Jobs Act." This bill is a direct threat to jobs in Routt County as it is a mandate to switch fuels at power plants on the Front Range from coal to natural gas and was passed using threats that the Environmental Protection Agency would punish Colorado if nothing was done to improve air quality. I voted against this bill because I don't believe the government should be mandating business decisions of private companies. Additionally, all of the benefits go to the Front Range while we get stuck with all the costs and consequences.
Finally, I strongly believe that our state and our national economies depend on developing a consistent energy policy that allows all of our domestic energy resources to be developed to meet future demand. Northwest Colorado is poised to take advantage of a policy that enables all energy producers to fairly compete to meet the energy demands of the future.

We need to work hard and work together to make sure we can effectively balance these very important issues going forward. Our part of the state is blessed with inspiring beauty and rich resources. Our challenge will be to responsibly develop and protect the land so that these blessings will be passed on for generations. Working together, we can and will succeed.
Once again, I am honored to be your state representative, and I would appreciate your vote and future support.
State Rep. Randy Baum­gardner, R-Hot Sulphur Springs, is running for re-election to House District 57. Contact him at 303-866-2949 or visit www.randybaumgardner.com.