Photo Gallery
Soda Creek Sneak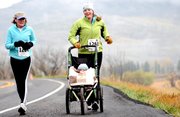 Saturday's Soda Creek Sneak, the first run of the winter Steamboat Spring Running Series, attracted more than 200 runners.
Steamboat Springs — The four-event winter edition of the Steamboat Springs Running Series started off just the way the summer version ended: with a massive crowd threatening to overwhelm organizers.
More than 200 runners showed up early Saturday for the Soda Creek Sneak, an event that lured legions of children and many Running Series regulars out for a jog on a chilly morning and one that raised thousands of dollars for Soda Creek Elementary School.
"I was surprised. I was very happily surprised," volunteer Cris­­tina Magill said.
The day featured timed and scored runs of 5- and 10-kilometers, as well as a 1-kilometer fun run that was made up of two laps around the school's Steam­­boat Springs complex.
Many of the competitors were familiar faces from trails across Routt County.
Ultra-marathon maverick Allen Belshaw won the 10K race, finishing in 39 minutes, 44 seconds. Shay­­na Cooke took the women's division in 48:40.
Lisa Adams was top in the women's 5K division, finishing in 22:43, just behind men's winner, 15-year-old Colton Lewer, in at 20:52.
The day was about the children; however, and the students who stand to benefit the most from the fundraising race flooded its courses, often skipping ahead of their panting parents.
The course for the long races led away from Soda Creek Ele­­men­­tary, along Butcher­­knife Creek Trail and out past the Straw­­berry Park campus. It was filled with students, beaming as they flew along the trails and over the roads on a cool, damp Yampa Valley morning.
"My son came in and woke me up this morning, he was so excited," said Belshaw, who was joined in the race by his son Erik, 6, and daughter Annika, 8. "For a while, there were a bunch of kids running out ahead of me. My kids were up in front of me."
Money raised in Saturday's event will go to the Soda Creek Parent Information Committee, which doles out the funds to projects that benefit students. Such money has gone to fund an astronomy exhibit and a summer reading program at the school in the past.
"It's awesome," Soda Creek Prin­­cipal Judy Harris said. "It's great to have the financial support and to bring our community together on a Saturday for something fitness related."
In the past, students sold cookie dough door to door to help fill the PIC's coffers. Satur­day's large race seemed entirely different.
"We wanted something kids could do with their families," Magill said. "Our whole goal was to have a fun, healthy family activity as a fundraiser, and the support everyone gave is amazing.
"We'll be back next year, and we only plan to grow bigger and stronger."