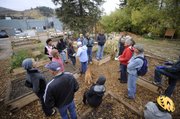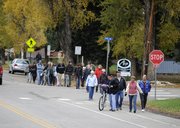 Steamboat Springs — Though the chill of a looming winter blanketed the Yampa Valley on Saturday morning, remnants of the summer gardening and produce season still hide away in several urban gardens in downtown Steamboat Springs.
At John Fielding's home, several tomato plants hanging in a naturally lit atrium still were weighed down with plump, red fruit, which he showed to a group of about 30 people on the Transition Steamboat Urban Garden Tour.
"What this tour is about is places to grow things," Fielding told the group. "And in this climate zone, that's not easy."
He explained how he's transformed his house at 13th and Oak streets into a hub of sustainable urban agriculture. He's had to deal with trying to capture sunlight, keeping bears and foxes out of his livestock pen and keeping his efforts energy-efficient.
He hopes eventually to grow a citrus tree in his house without using any fuel.
On the five tour stops, the group was introduced to a variety of land uses to produce food in an urban setting.
The tour was one of three events this weekend organized by the local sustainability group Transition Steamboat that focused on how to locally produce food. Betsy Rapp, who organized the tour, said it was important for those interested to see urban gardening in action.
"There was some great gardening going on in Steamboat Springs," Rapp said. "We wanted (the tour) to be educational and give people ideas for more possibilities for their gardens."
The other seminars focused on aquaponics and permaculture.
Mike and Carolyn Toughill, of Eagle County, traveled to Steamboat this weekend specifically for the aquaponics seminar.
"I've been like a kid on Christmas all week," Mike Toughill said.
The two got the gardening bug when they first planted a pasture for their mules. Now, they plan to expand into growing their own vegetables, grass-fed beef and trout.

"We've got a lot of big dreams," said Carolyn Toughill, who carried a notebook and several agriculture books to each garden.
They agreed that the nutritional and health aspects were an important motivator to grow their own food on their land in Eagle.
"We've been frightened and aware of what's being put in our food chain," Mike Toughill said.
Another stop on the tour was a visit to the Community Roots Garden, where Kassi Sell talked about how the first year of the community garden went and possible plans for the future of the county-owned land at Sixth and Oak streets.
Sell, a master gardener with the Colorado State University Extension Office, said the tour was an educational and motivating event.
"It shows that it can be done," she said. "It's starting the process of re-skilling people to do things they were meant to do."
Some on the tour already were gardeners looking for ideas. Others did not have a garden, or had one long ago, and were looking for the inspiration to start one.
"It's awesome," said Karen Vail, a horticulturist who went along on the tour. "I just love how diverse all the things are that we've seen. There are just so many different ways of gardening. You can pick and choose how you want to use it."
Third on the tour was the Fourth Street home of Antonio Marxuach and Lisa Sadler. The pair showed the group the first-year biodynamic garden in their front yard, which they sacrificed a sod lawn to create.
Marxuach described how their biodynamic approach to gardening includes topsoil preservation and compost, and how it yielded some successes and some failures.
In their yard, just as in Fielding's home, there were a handful of tomatoes still ripening on the vines.
But it will continue to be a work in progress as the two figure out what works and what doesn't in their front yard experiment with sustainable urban gardening.

"We are learning," Marxuach said. "And we're learning by doing."
— To reach Nicole Inglis, call 871-4204 or e-mail ninglis@steamboatpilot.com