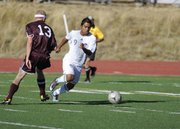 Steamboat Springs — As Steamboat Springs High School junior En­­rique Lopez sat at Gard­­ner Field on Thursday juggling a soccer ball on his feet and head, a horde of teammates sat in the background cheering, ribbing him and encouraging him to dance.
It may have only been a brief glimpse at a moment, but it spoke to Lopez's coming full circle.
Lopez, who leads a 7-3-1 Steamboat team with nine goals this season, moved from Guadalajara, Mexico, five years ago.
He showed up in sixth grade not knowing a lick of English, in a foreign place with no friends.
"I didn't like it here," said Lopez, briefly hiding his smile. "I wanted to leave back to Mexico."
But his parents implored him to give it a year. Slowly, Lopez started to learn English and acclimate himself to Steam­boat.
The biggest help, though, was that Lopez found soccer, a game he had played in the streets of Guadalajara since he was 3 years old.
His talents were instantly evident. But soccer gave Lopez more than he could ask for.
He made friends, he started to learn the language, and that foreign place wasn't so foreign anymore.
"At the beginning, I felt weird," Lopez said. "Now, I feel normal. I get along with my teammates well. I started playing soccer, and I got more friends."
A natural on the field
In Mexico, Lopez would play soccer for three or four hours a day. He would play in the streets using stones as goals, sometimes getting lucky enough to play on a dirt field.
When he got to Steamboat, his skills were there.
"I've watched Enrique since I was on the U14 team," Steam­boat senior Brandon Marr said. "As far as I remember, he's always been a strong player."
His freshmen year of high school, Lopez played in several varsity games.
Last year, he played the entire season with the varsity, and this season, he's been the team's most consistent threat.
Lopez has split his time between central midfield and as a forward.
His playmaking skills and touch on the ball have made a huge difference for a Steamboat team that lost six seniors from last year's squad.
"He just kind of has those innate things," Steamboat coach Rob Bohl­mann said. "The creativity, the comfort level with the ball and the way to play the game. Things just come so naturally for him. His comfort level with the ball — it's just different."
The next step
Lopez will be key as the season winds down.
Steamboat is second in the Western Slope League, just a game behind Battle Mountain. The two teams meet again at 6 p.m. Thursday in Steamboat.
But Lopez's future looks even brighter.
The junior said his goal is to play soccer at the collegiate level. After that, he said he'd like to find a way to play professionally.
"That would mean everything," Lopez said about playing in college. "That's the reason I came here — to go to college."
Bohlmann said Lopez has the ability.
"It's not a question if he can, it's a matter of making sure that he's able to find the right match," Bohlmann said. "This winter and spring will be a big time as far as that research and contacting schools. I definitely think he's going to have a couple great opportunities to find a school that's a great match for him."
Until then, Lopez will focus on this season and next.
He said he's trying to become a better leader on the field.
But one thing is obvious. When Lopez is on the soccer field with his teammates, he seems to be at home.
He rarely frowns, he jokes, and being 1,500 miles from home isn't a big deal.
Soccer "is just a passion," Lopez said.
"I like scoring, playing hard and beating people. I hate to lose. I didn't like it here at the beginning because I wasn't sure what to do. But once I got on the team, it changed my whole mind and my whole view."