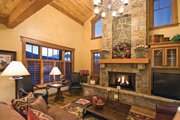 Steamboat Homefinder
Visit SteamboatHomefinder.com for more real estate news.
Steamboat Springs — The newest phase of the Eagle­ridge neighborhood, Stone­­wood Townhomes, made headway during the summep with three homes selling at prices that closely approximate pre-construction Phase 1 pricing in early summer 2006.
K&K builders, Peter Kreissig and his wife, Kim, also a veteran Realtor with Prudential Steamboat Realty, undertook their biggest project to date with Stonewood in 2005 and 2006. They had established themselves as builders of custom homes and high-trim-level, mid-range townhomes in the neighborhood just south of Walton Creek Road.
Kim Kreissig said it wasn't easy to drop prices to 2006 levels at Stonewood; she acknowledges that even at $1.55 million, the sales didn't net a profit. However, a marketing analysis indicated that it was necessary to sacrifice in order to persuade buyers who had been looking at the townhomes for more than a year to take action.
"It's very difficult to price properties in this market," Kreissig said. "You can't make a blanket statement about where the market is. What's happening in one development doesn't decide what's happening in others."
Stonewood wraps around a west-facing slope on Eagle Glen Drive, where the tri-level townhomes are cut into the terrain and overlook Wildhorse Meadows. The neighborhood is just removed from Mount Werner Circle and an easy walk from One Steamboat Place.
Instead of ratcheting down prices on the townhomes in increments, Kreissig said she and her husband decided to cut to the chase.
"We're at the bottom, and the Realtors I work with understand that," she said. "Obviously, there will be resales down the road, but for buyers looking for new product, this is it. Developers here won't approach new projects the way they did in the past. We certainly won't allow ourselves to be as aggressive as we were."
Angela Ashby, Kreissig's colleague at Prudential, said three Stonewood units sold in a two-week period from July 30 to Aug. 10. Two were developer units, and one was a resale.
Jeri Smith, of Buyer's Re­­source Real Estate, brought one of the buyers.
"Pre-construction pricing gets results," Ashby said. "Compared to other luxury developments near the base area, this is one of the best values priced under $400 per square foot."
The smallest of the three, at 2,875 square feet, sold for $1.06 million, $368.70 per square foot. The asking price on the resale unit was $1.145 million.
The larger units, which included four bedrooms plus bonus rooms, sold for more per square foot. One sold for the asking price of $1.56 million, or $399.74 per square feet. A third sold for the same price, but a little more per square foot at $415.
The mid-summer sales left four of the 23 original developer units unsold.
"We get satisfaction from making the sales even though the profits are gone," Kreissig said.
— To reach Tom Ross, call 871-4205 or e-mail tross@steamboatpilot.com