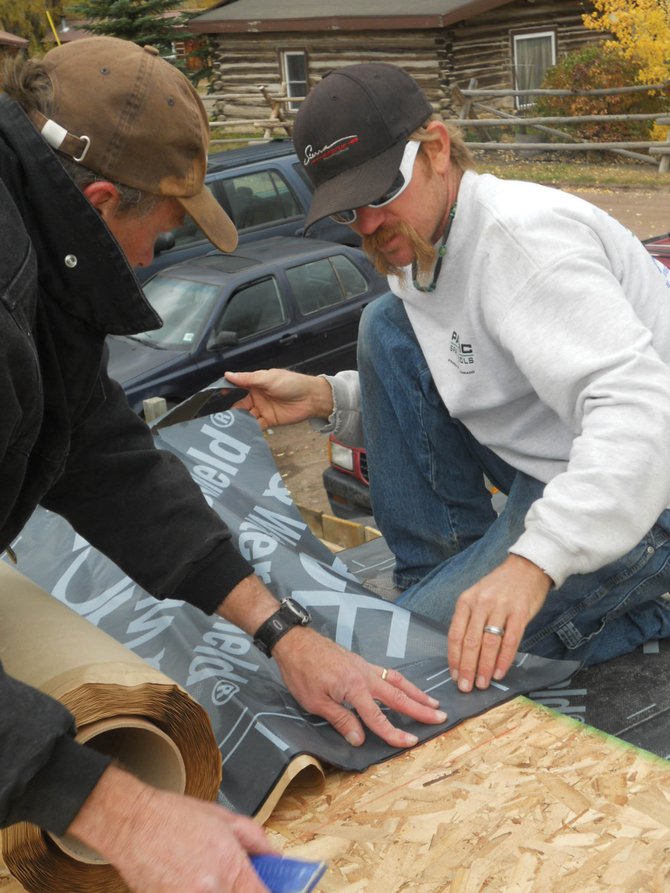 Routt County Habitat's Brush With Kindness campaign continues
Saturday, October 9, 2010
Steamboat Springs — Friday morning, as a storm loomed in the sky over Yampa, Jody Patten and two volunteers from the construction industry stood on the roof of a trailer, rushing to beat the weather.
Just before the storm hit, the group had nearly completed a permanent fix to the roof of a 76-year-old woman's trailer that has been leaking water into her home for years.
By the end of the day today, Routt County Habitat for Hum­anity expects to have finished at least six projects in its Brush With Kindness campaign that started last week, according to Patten, Habitat's executive director.
Smaller home repair projects are a new undertaking of the organization, which is focusing on helping needy residents fix up their homes before winter.
The group's next full home build will take place on a lot in Oak Creek when the economy turns around, Patten said, but until then, Habitat wants to continue to protect the existing affordable housing stock and train a new crop of volunteers.
"It's making more people aware of Habitat and what we do," Patten said about the smaller projects. "A lot of times, people on the margins feel kind of lost. It has a big effect on them, having their whole community rally around them, not doing the work for them, but beside them."
She said the program would continue through fall for any other households looking for help winterizing their homes.
Those who want Habitat's help must fall between 25 and 50 percent of the median household income and must own the home. If other aid resources can be used, Habitat will connect people will those opportunities, Patten said.
The original goal was to perform minor repairs on five houses in five days starting Oct. 1, but volunteer crews found that projects evolved through the week.
One group traveled to Fish Creek Mobile Home Park, where volunteers were scheduled to clean up around several homes. They ended up scraping and staining decks and repainting one trailer because they saw the need.
Elisabeth Salzgeber, of Steam­­boat Springs, said that project was her first experience volunteering with Habitat.
"We wanted to help one lady with her yard, so we cleaned up her yard and trimmed everything and restained the front and back deck," Salzgeber said.
Although she didn't see the finished product, she could see the effect their work had on the trailer park.
"It looked like we made a difference," she said.
Salzgeber said she's always been interested in volunteering, and being outside in the sunshine helping fellow community members isn't a bad way to spend a morning.
"I love it," she said. "I've always been interested in trying it, and I'd definitely do it again."
Patten said there were 25 to 30 new volunteers that participated in projects this week. It particularly encouraged Patten that so many high school students were getting involved. She said she hopes those young volunteers will grow into the core of Habitat for Humanity and will continue to give back to their community.
"People are eager to get their kids out in the community helping people in need. It gets them seeing that not everyone in Steamboat has everything, seeing they can make a big difference, that they can lift someone's spirits by working alongside them."