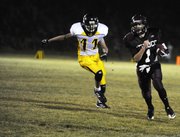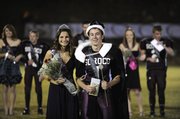 2010 Rams football schedule
Steamboat Springs — The Soroco High School football team took a moment Friday amidst the rain to celebrate — it was homecoming, after all.
But on the heels of Friday's 49-12 thrashing of Gilpin County — a game the Rams led 49-0 at halftime — the talk and focus quickly shifted back to what will amount to the biggest game of the season.
Next Friday, Soroco travels to play West Grand — a team ranked No. 9 in The Denver Post's football polls — in a game that could determine the league champion.
West Grand plays Justice today. If Justice wins, the Soroco-West Grand game will be for second place in the league. Should West Grand win, Soroco still has a chance at a league title with a win next week.
On top of that, Soroco (5-1 overall, 2-1 in league play) and West Grand have become one of the best rivalries on the Western Slope, and next Friday's game will have a playoff feel.
"For sure it's the biggest one," said Soroco coach David Bruner, whose locker room talk already was looking at the scouting report for West Grand. "There has been a lot of talk from West Grand in track last year. There's not a lot of love lost there. It's going to be a huge game."
But before Soroco could look toward West Grand, the Rams had to settle the business of Friday's showdown with the Eagles.
Without starting quarterback Nic Paxton, Soroco senior Pie Lombardi started.
Lombardi — who also was named homecoming king at halftime — rushed for 128 yards and two scores, while throwing for another one.
He bookended touchdown runs of 41 and 14 yards around a 27-yard touchdown run from Jacob Hange to give the Rams a 22-0 first-quarter lead.
The Rams got a pair of touchdowns from Richard Gonzales, another one from Hange and one from Josh Baker to take a 49-0 halftime lead.
In the first half alone, Soroco tallied 259 yards of offense, while the defense was absolutely dominant, giving up minus-31 yards to Gilpin County.
"We just had to come in and do what we do every week," said Lombardi, who totaled 196 yards of offense and three touchdowns. "We just prepared. It's the same thing every week — play hard."
Now, Soroco prepares for the showdown with West Grand, a game Lombardi is likely to start.
Bruner said Paxton has "maybe a 5 percent chance" of playing next week.
But for Lombardi, the game will be an opportunity of a lifetime — one fit for a king.
"It's a big game," he said, crown on his head. "It's going to be everything we've got. We have to leave everything on the field."
Game statistics
Soroco 49, Gilpin County 12
First Downs: 7 (Soroco), 3 (Gilpin)
Rushes-Yards: 24-217 (Soroco), 34-67 (Gilpin)
Comp-Att-Int: 5-6-0 (Soroco), 2-9-0 (Gilpin)
Yards Passing: 94 (Soroco), 38 (Gilpin)
Total Yards: 311 (Soroco), 105 (Gilpin)
Punts-Avg.: 1-14 (Soroco), 5-23 (Gilpin)
Fumbles-lost: 2-2 (Soroco), 3-1 (Gilpin)
Penalties-Yards: 4-30 (Soroco), 0-0 (Gilpin)
■ Score by quarters
Gilpin County: 00-00-06-06—12
Soroco: 22-27-00-00—49
■ Scoring summary
First Quarter
S: 8:45, Pie Lombardi 41 run. (Kick fail.)
S: 6:55, Jacob Hange 27 run. (Lombardi run.)
S: 2:27, Lombardi 14 run. (Lombardi run.)
Second Quarter
S: 11:33, Richard Gonzales 5 run. (Pass fail.)
S: 9:06, Gonzales 27 pass from Lombardi. (A.J. Anderson kick.)
S: 6:49, Hange 27 run. (Kick fail.)
S: 2:31, Josh Baker 1 run. (Jaden Baker run.)
Third Quarter
GC: 2:47, Kevin Robertson 54 run. (Run fail.)
Fourth Quarter
GC: 10:49, Luke Gibson 23 pass from Robertson. (Pass fail.)
■ Individual statistics
Rushing
GC: Chris Randall 6-(-14); Robertson 15-32, 1 TD; Vince Marone 4-3; Tim Johnson 8-56; Gibson 1-(-10) .
S: Lombardi 7-128, 2 TD; Jacob Hange 4-57, 2 TD; Gonzales 1-5, 1 TD; Josh Baker 3-(-5), 1 TD; Jaden Baker 4-35; Colton Martindale 1-(-2); Taylor Hammer 2-0; Matthew Regan 1-(-1).
Passing
GC: Robertson 2-9-0, 38 yards.
S: Lombardi 4-4-0, 68 yards, 1 TD; Josh Baker 0-1-0; Regan 1-1-0, 26 yards.
Receiving
GC: Gibson 2-38.
S: Hange 2-38; Gonzales 2-30, 1 TD; Josh Baker 1-26.