Hayden football crushes Rangely, 47-14, in homecoming game
Tigers charge through winless Panthers, 47-14, in homecoming game
Saturday, October 9, 2010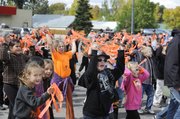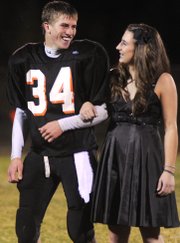 2010 Tigers football schedule
Hayden — The way things seemed, the Rangely High School football team already was behind by a couple of scores as soon as it got off the bus Friday night in Hayden.
The squad came into the game 0-4 and with only 14 players.
"We have one kid injured, one in jail and one at a wedding in Oregon," Panthers coach Tim Galloway said.
Things were knotted up at 0-0 at kickoff, but the Tigers quickly took their opponents out of the proverbial hole and set them in a real one, rattling off 33 first-quarter points to set up a huge homecoming victory and improve to 3-3 on the season and 2-0 in Western Slope League play.
"It's fun to win one like that on homecoming," Hayden coach Shawn Baumgartner said. "Everyone got to play, and they had a good time."
Several first-quarter stats didn't seem to favor Hayden. The team had half as much time of possession as Rangely did and notched only one first down. Big plays paved the way, however as the Tigers struck quickly and frequently.
Senior quarterback Graig Medvesk ran the ball in from 26 yards just 45 seconds into the game. He hit classmate Treyben Letlow with a 40-yard touchdown pass 55 seconds later, and Ben Williams scored with five minutes, 14 seconds remaining in the first quarter, running in from 20 yards out.
"You're still playing a varsity game on Friday night, and it's exciting any time you get a chance to work on those things," Baumgartner said. "Ben (Williams) and Ryan (Domson) ran hard back there, and they gave us a lot of opportunities early in the game."
Rangely did have a chance to stay in it early and managed to score a touchdown with an 80-yard pass in the first quarter, briefly making the score 14-6.
Williams added his touchdown, however, and Medvesk finished the wounded Panthers off with two more touchdowns. He scored on a 21-yard run and then scampered for a 70-yard punt return.
As the crucial first quarter came to a close, the Tigers again were threatening, though most of the varsity offense already was on the sideline.
Junior Dakota Zehner scored his first varsity touchdown on the night he got his first varsity carry, rushing in from 6 yards six seconds into the second quarter to make the score 40-6.
"Coach told me, 'You're going to get the ball here, and you're going to score,'" Zehner said. "I said I'd do what I can. It was pretty exciting."
He helped pick up the load as the team's main rusher for the rest of the game, finishing with 61 yards.
Williams tacked on Hayden's final points with an 18-yard third-quarter run, giving him two scores and 70 yards rushing on the night.
Williams' touchdown gave Hayden a 41-point lead and set a running clock, limiting action in the second half. Rangely managed one final drive in the fourth quarter, scoring with an 8-yard touchdown pass and converting the two-point try.
It wasn't nearly enough, however, as the Tigers were already well on their way to celebrating a homecoming victory.
"We were starting four freshmen," Galloway said. "Our kids still played hard, and they didn't quit. They kept pushing until the very end. We're on the right track, but it's going to take a while."