If you go
What: "Foundations of Steamboat" exhibit featuring the Allen family
When: Tuesdays through Saturdays, 11 a.m. to 5 p.m. The exhibit will be on display for a year.
Where: Tread of Pioneers Museum, 800 Oak St.
Cost: $5 admission; free for Routt County residents
Photo Gallery
"Foundations of Steamboat"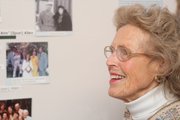 Steamboat Springs — Thursday in the Tread of Pioneers Museum, Phyllis Allen was surrounded by history and family melted into one.
In a small room on the second floor of the museum, her children Lon Allen and Gina Walker gingerly walked their mother around, showing her the elements of a new exhibit telling the story of the longtime local family.
One black and white photo featured a young woman atop a horse, waves of dark hair blowing in the wind.
"I used to do that," Phyllis Allen said with a smile, acknow­ledging her place in history and in the exhibit.
The Allen family is still a significant presence in Steamboat, something the museum feels should be honored and highlighted to residents and visitors. Walker said she was honored to have the museum feature her family's story for the next year as part of the "Foundations of Steamboat" series.
Katie Adams, Tread of Pioneers curator, said the Foundations of Steamboat exhibit has honored families such as the Lights, Temples, Stankos, Leckenbys and Kemrys for 13 years.
"It's the same people and the same names that keep showing up through our history, and it's everyday people like shop owners like George" Allen, she said. "They're the people that embrace the community and want it to grow and want it to move in a healthy manner."
The pictures and artifacts depict a life in Steamboat with snow banks high above the storefronts and an unpaved Lincoln Avenue.
"My grandfather (George) was instrumental in many changes made in the community," Walker said.
She was referring to his stint as mayor from 1926 to 1930, in which he helped implement public snow removal, and the opening of Allen's Menswear in 1949. The store, now called Allen's Clothing, has been in the same location on Lincoln Avenue for more than 50 years and now is operated by Gina and Lon's brother, Tod.
In the exhibit, guests can see a detailed family tree and descriptions of the family's history. The Allen family donated relics of its ancestors and heirlooms for the exhibit, including George's wife Faye Allen's long coat with a mink collar.
Walker donated several items, including a beaded handbag of Faye Allen's and a hot water bottle formerly used to keep warm on long carriage rides in the winter.
Countless photos and old advertisements from the clothing store punctuate the exhibit, which also includes a computer showing family movies. Old dolls and newspapers from the time period also illustrate the family's lifestyle and history.
"These same people are the foundations of Steamboat who helped build the town as we are today," Adams said. "It's a great way for the family to realize their worth. It's different than having a photo album on your coffee table."
These days, the Allen family remains as close as ever. Phyllis Allen said she was blessed to have all of her children and grandchildren nearby, carrying on the Allen family name and tradition of kindness and community involvement.
"It's been heaven on earth," she said, "living in Steamboat all these years and having family still close."
Walker said she and Lon Allen stop by Allen's Clothing as naturally as when they were children. They run into each other in the grocery store and the post office. And they get together on holidays, including Mother's Day, to eat, laugh and poke fun at one another.
"That's what we always look like," Walker said, gesturing at several recent family photos. "We're always smiling."
The three agreed they're lucky to have a family that stayed so close for so long.
"We couldn't leave Mom," Walker said about remaining in Steamboat.
"And I couldn't leave Steam­boat," Phyllis Allen said. "I love it. I praise the Lord every day."