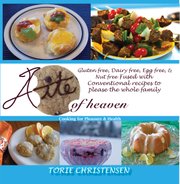 Steamboat Springs — Laura Christensen remembers the forlorn look on her daughter's face when a doctor told Torie, a Steamboat Springs High School freshman at the time, all the things she wasn't allowed to eat any longer.
No wheat, rye, oats or barley.
No milk products or eggs.
Torie Christensen's intolerance to gluten and dairy had all but eliminated her ability to eat the sumptuous baked goods she created alongside her mother and grandmother, or the pizza she enjoyed alongside her high school friends.
But it wasn't long before the perseverant teenager rose above her limitations.
"I saw it as a challenge to find something good to eat," said Torie Christensen, now 21 and soon to graduate from the University of Northern Colorado with a degree in dietetics. "After a few years, I started experimenting in the kitchen because I didn't like the gluten-free stuff off the shelf."
In May, Torie Christensen's experiments came to fruition in a cookbook she self-published.
Her company, A Bite of Heaven, also serves as the title of the book, which features recipes from sandwiches to dinners and desserts.
"Basically, I like to replace flour with brown rice flour, sorghum and buckwheat flour," Torie Christensen said. "I use the xanthan gum because the alternative flours don't bind as well."
Starting with those basic substitutions, she's developed such creations as peppermint hot cocoa coffee cake, which also comes in a dairy-free version.
But the book wasn't created just for those with dietary restrictions, because Christensen knows all too well that tastes and diets vary among friends and family.
After her dietary restrictions were implemented, she and her mother found they had to cook various versions of recipes for members of the family. Laura Christensen said her husband, Byron, has no desire to eat gluten-free food.
Meat and vegetables are a good compromise, but Torie Christ­­ensen laid out her book to allow for multiple creations with the option to substitute out various ingredients for gluten-free, dairy-free and nut-free versions of the same recipe.
She arrived at most of these combinations through trial, laughter, error and a lot of dinners for her college roommates.
"It became a hobby," Christ­ensen said about how her once-limiting situation propelled her into authorship. "I've always loved to cook. Somehow, I found my niche, that I loved being in the kitchen and experimenting and creating new recipes. I decided then, 'Oh, I should write a book.'"
That was in spring 2009.
Through the school year, on top of an 18-credit course load, Torie Christensen was cooking up a whirlwind of new recipes and fresh takes on her grandmother's favorites. Her roommates and parents were taste-testers.
One year later, she had established her own company and published the cookbook through a self-publishing company online.
By the end of the process, even her father smacked his lips at a few of the dishes.
Torie Christensen said many of her friends are impressed by what she's accomplished at her age.
She said she hopes her story inspires young people to go after their dreams, but more than anything, Torie Christensen wants to help those with dietary restrictions enjoy delectable foods and mouth-watering desserts as much as everyone else.
"I feel like it definitely has started to help people," Christensen said. "I've heard some feedback from people that they can actually eat good things again."
She expects to graduate in December and is applying for internships across the country.
Laura Christensen said the family is proud of Torie Christen­sen and her ability to use her talent and ambition to overcome her doctor's sentence.
"I recognized it in her when she was very young," Laura Christensen said. "She had to get past the point of being sick. Her perseverance and determination really came out."
For Torie Christensen, "A Bite of Heaven" is only the first taste.
"It was really exciting when I got that first book in my hand, for sure," she said. "I was thrilled … and it's gotten me a long ways. I get questioned sometimes, 'Are you old enough to write a book?' Well, I did it."