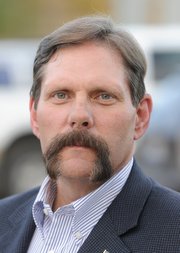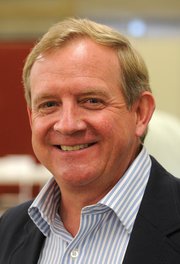 Steamboat Springs — Republican state Rep. Ran­dy Baumgardner maintained a strong fundraising lead through September in his race for re-election against Democratic challenger Steve Ivancie.
Baumgardner, the incumbent from Hot Sul­phur Springs, had a balance of $11,619 in his campaign fund as of Sept. 29, according to a report filed with the Colorado Sec­­retary of State's office. He reported $1,455 in spending from Sept. 16 to 29, for travel expenses and campaign materials. Ivancie, a former Steamboat Springs City Councilman, re­­ported a balance of $2,661 as of Sept. 29. He spent $1,603 on travel expenses during the past two weeks.
Baumgardner, a rancher and owner of Baumgardner Cattle Co., did not report any monetary contributions from Sept. 16 to 29. He reported contributions of $2,750 from Sept. 2 to 15. Those ranged from donations of $200 or less from individuals across the district, including two in Steamboat Springs, to larger contributions such as $400 from the Colorado Association of Commerce and Industry and $200 from the Colorado Restaurant Association. Both groups are based in Denver. The Routt County Republican Central Committee donated $800 to Baumgardner's campaign.
House District 57 covers the state's northwest corner and stretches to Rangely, Battlement Mesa and Rifle in the west and, with jagged borders, almost to Estes Park in the east. The district includes all or part of Routt, Moffat, Grand, Garfield, Jackson and Rio Blanco counties.
Baumgardner defeated South Routt County resident and Democrat Todd Hagen­buch in 2008. Routt was the only county Hagenbuch carried in that election.
Ivancie entered the state House race in May. He said Monday that the relatively late start against Baumgardner, an incumbent with appeal to statewide funding sources, placed him at a financial disadvantage from the start.
"I knew I'd never be able to compete with him as far as money," Ivancie said. "I'm just getting contributions from folks who know me."
Almost all of the $600 in contributions Ivancie reported from Sept. 16 to 29 came from full- or part-time Steamboat residents. The lone exception was $100 from Anna Smith of Prairie Village, Kan. She's Ivancie's sister.
Baumgardner could not be reached for comment Wednes­day.
Sheriff race
The next finance reports for Routt County sheriff candidates Gary Wall, the Dem­ocratic incumbent, and Re­­publican Garrett Wiggins are due Tuesday to the Colorado Secretary of State's office.
They'll list contributions and expenditures from Sept. 5 to today.
According to the most recent campaign finance filings, Wall raised $7,665 from Aug. 2 to Sept. 4. He spent $3,126 during that time. Wiggins raised $7,185 and spent $2,093 in the same period.
Wall had $4,864 on hand as of Sept. 9, compared to Wiggins' $10,308.
Coroner race
The same Tuesday due date for campaign finance reports applies to candidates for Routt County coroner — but they're not waiting that long.
Republican incumbent Rob Ryg filed his report Oct. 1 and said this week that he's "done fundraising" in the essentially non-political race.
Ryg said the $3,050 he raised through September was enough funding for his campaign.
"I'm not a politician," said Ryg, who's in his third election but first contested one. "I'm just basically running on experience and track record."
Democratic challenger Dar­rel Levingston said he plans to file his next finance report shortly and, like Ryg, is not making any more fundraising efforts.
"I'm not going to do any more fundraisers, per se. We are still accepting donations," he said this week. "People have been very generous. I feel like in this economy, we've raised what I think is a considerable amount of money, and I kind of feel bad about asking people for more."
Levingston raised about $1,900 through Sept. 4.
Kevin Nerney is campaigning for the coroner job as an unaffiliated candidate. He said this week that his self-funded campaign is "going terrifically."
"I'm financing it myself, I'm not raising any money," Nerney said. "It's just easier, I think, because I'm not restricted as to what I spend or don't spend, or (by) having to give back what I don't use."
All three coroner candidates said they plan to attend upcoming candidate forums.
The League of Women Voters hosts a candidate forum at 7 p.m. Wednesday at the Steamboat Springs Community Center. The next night, Oct. 14, is a forum hosted by the Steamboat Pilot & Today, Steamboat Springs Board of Realtors, and Routt County Democratic and Republican parties, also at the Community Center. A social hour is from 5 to 6 p.m., followed by the forum.
— To reach Mike Lawrence, call 871-4233 or e-mail mlawrence@steamboatpilot.com