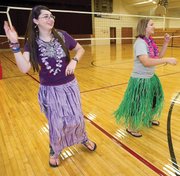 Homecoming events
Today
■ 7 p.m. Powderpuff football
■ 8 p.m. Bonfire
Thursday
■ 2:15 p.m. Pep rally
Friday
■ 2:30, 3:30 and 4:30 p.m. Volleyball vs. Vail Christian
■ 7 p.m. Football vs. Gilpin County (royalty crowed at halftime)
Saturday
■ 8:30 p.m. Homecoming Dance
Homecoming Royalty
Seniors
Jacob Hange
Pie Lombardi
Ben Strait
Cassy Meyer
Ceanna Rossi
Corey Snyder
Juniors
Tristan Paylo
Lindsay Miles
Sophomores
Cody McCollum
Micaela Meyer
Freshmen
Ian Paylo
Miranda Watts
Oak Creek — Students in the Soroco High School leadership class said Tuesday's dance rehearsal wasn't indicative of what the performance will be like during the Thursday afternoon Homecoming pep rally.
The students weren't wearing their costumes, which will include glow sticks attached to black clothing to make them look like stick figures in the dark gymnasium. And they still were learning the moves of their dance.
"It will be way cooler than us practicing," said Bailey Forster, the high school student body head girl.
Forster and the other 11 leadership class students were planning the rest of this week's Homecoming activities, some of which are based on this year's theme, The Incredible Super-Rams.
Other activities they worked to put the finishing touches on included Tuesday night's chili cook-off, today's 8 p.m. bonfire, the 2:15 p.m. Thursday pep rally and the 8:30 p.m. Saturday dance.
Oh, and there's also the Friday volleyball games starting at 2:30 p.m. against Vail Christian and the 7 p.m. football game against Gilpin County, at which this year's Homecoming royalty will be crowned.
Junior Kira Pattillo said the culmination of all things Homecoming this week was a big deal.
"It's like school tradition, pretty much," she said.
Forster took that thought a step further.
"The Homecoming games are pretty huge," she said. "The whole community comes. People from McCoy and Burns come too. It's huge."
Throughout the week, each grade level will compete in a variety of activities to earn points that ultimately will get the winning class Soroco's spirit stick, or bragging rights until Winter Fest, leadership class teacher Tammy Gilleland said.
For instance, each day students dress in a different theme. Tuesday's was Hawaiian. Gille­land said all of the sophomores dressed up, and 81 percent of Soroco students participated. Students also compete in games daily, such as Monday's backward relay race and Tuesday's Potty Pants, a variation of musical chairs that requires participants to sit in water.
Forster and several other of her classmates in leadership — freshmen, sophomores, juniors and seniors who plan school activities throughout the year — said they've been planning Homecoming Week since school began, but this week has been especially hectic.
Despite all the work they still have to do, senior Cassy Meyer, the student body secretary and treasurer, said she was confident they'd get everything done to make Homecoming Week a hit for Soroco.
"It's going to be big. It's going to be fun," she said. "We've got tons of creative people planning."
— To reach Jack Weinstein, call 871-4203 or e-mail jweinstein@steamboatpilot.com