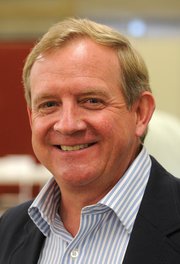 Colorado voters are about to be exposed to a ballot box virus masquerading as Amendments 60, 61 and Proposition 101. Within each of these initiatives is a virus that will permanently cripple local and state governments' ability to finance and invest in critical services such as road maintenance, education and municipal infrastructure.
The language of these measures is seductive and cleverly designed to appear reasonable, implying that we can cut revenue without suffering consequences. In truth, these initiatives — if passed — will adversely affect the ability of every city, county, school district, utility district, and our state to provide the basic services upon which each of us relies.
These initiatives would dramatically reduce the funding required to provide necessary services and infrastructure maintenance. The Big Bad Three, as these measures have been coined, will immediately cut Routt County annual revenues by $5.7 million, reduce the city of Steamboat Springs' annual revenues by $954,000 and will cost Steamboat schools $1.5 million, resulting in layoffs and larger class sizes (Steamboat Springs Chamber Resort Association study). This reduction of revenue will mean loss of local control of budget decisions. It will rob our ability to invest in our infrastructure and finance large-scale public projects. Furthermore, it will cause the repeal of voter-approved decisions to keep property tax revenue above constitutional limits. Overall, the loss of this revenue would be disastrous for our community and for our state.
These measures would destroy our ability to attract businesses and tourism. If Proposition 101 passes in November, it will severely reduce the amount of money available for maintenance of Colorado's transportation and telecommunications infrastructure, affecting everything from tourism and commerce to energy production.

Colorado businesses need solid infrastructure to thrive and remain competitive in attracting capital and new customers and to retain and hire additional employees.
They need predictability. Will they survive in this climate of uncertainty? With passage of these measures, they are likely to move their operations outside Colorado; we would find it difficult to attract new business or tourism. These initiatives could put Colorado on the road to a permanent recession.
Respected Republican legislators and the Colorado Municipal League oppose these measures. The Denver Post reported a vast majority of Colorado's Republican legislators took the unusual step of signing a letter urging their constituents to reject these initiatives. "I don't see them as good policy," stated state Sen. Greg Brophy, a conservative from the Eastern Plains who worries that the proposals would make it virtually impossible to balance the budget. "It's like losing your job and getting sick at the same time. I'm for limited government, but not no government." (New York Times, Sep. 20, 2010)
State Sen. Al White, R-Hayden, respected member of the Joint Budget Committee, speaks plainly, saying, "It will bankrupt the state." (Steamboat Pilot & Today, Sep. 19, 2010)
Sen. White noted that a study by the Legislative Council concluded that if all the measures were implemented in 2011, the majority of state's general fund would go to K-12 education, leaving inadequate funding for higher education, health care, public safety and prisons.
The Colorado Municipal League stated, "Passage of these measures would seriously erode the reliability of basic services, the attraction of new business to the state, and our ability to enjoy the quality of life we have created for our families."
Democratic lawmakers are united in their opposition to these measures.

With unanimous objection from leaders in both parties, including our state senator, where does our incumbent Representative Baumgardner stand? Although he offers no evidence to the contrary, he does not believe the impacts will be as dire as feared. He thinks Colorado will be "fine either way." (Steamboat Pilot & Today, Sep. 19, 2010) As a constituent of HD 57, I am disappointed in our representative's lack of concern as to the severity of this issue, indicating a profound misunderstanding of his duty to the citizens of HD 57.

I am opposed to Amend­ments 60, 61, and Proposition 101. They are irresponsible and destructive to our ability to invest in our future, our children's schools, local infrastructure and Colorado businesses' ability to thrive and create jobs. As your state representative, I will fight to invest in our future, our children's schools, our local infrastructure, and Colorado businesses' ability to thrive and create jobs for all of HD 57.
I have always considered government as all of us, not some far-off collection of "them." We are government. Every day is an opportunity — and a duty — to exercise our right to self-determination. Please take the time to study the effects of "The Big Bad Three" before you vote.
Steve Ivancie is a Democrat from Steamboat Springs running for House District 57.