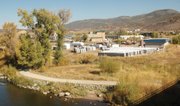 Steamboat Homefinder
Visit SteamboatHomefinder.com for more real estate news.
Steamboat Springs — When three separate pieces of Riverfront Park sold for nearly $5 million this month, it was a combination of well-established tenants and dev­­­elopment potential that sealed the deal.
The light industrial/commercial park near the James Brown Soul Center of the Universe Bridge on Steamboat's west side sold for $4.95 million to a Bryan, Texas-based LLC created by part-time Steamboat resident Randy Dean. The deal did not include the existing independently owned live-work units in the project.
However, the sale did include a large steel commercial building, with tenants including Excel Gymnastics, the public defender's office, a national distributor of electrical supplies and a design studio. Just as significantly, it includes a 2.17-acre expansion parcel already approved for a second large commercial building and six more live-work units. Perhaps most important, Dean acquired 8.8 acres of potential development ground on the west side of Shield Drive with 1,100-plus feet of Yampa River frontage.
Steve Weinland's businesses, Aces High trash removal and Royal Flush portable toilets, occupy a portion of the 8.8-acre parcel.
Buying broker Steve Asbury, of Colorado Group Realty, said his client initially was focused solely on the 8.8-acre parcel but after scrutinizing the other elements realized they might get more value by taking the seller, Riverfront Park of Steamboat Springs LLC, out of the property.
"We were actually focused on the 8.8 acres, that's the piece we were really after, but we started looking at the whole thing and realized it had a really good cap rate (ratio of investment to annual lease income). It had a cap rate of about 10 percent. We realized it was just going to be a better deal overall," Asbury said.
Selling broker Michael Buck­ley, of Yampa River Realty, said his clients, based in Spokane, Wash., were the original developers of Riverfront Park and were eager to move on.
Buckley thought the presence of solid tenants was instrumental in closing the deal.
"I think what did it was that it cash flows," Buckley said. "A lot of land in Steamboat is vacant, so you can come up with $5 million to buy it, but you're just going to sit on it. This property has good tenants with Consolidated Electrical Distributors and Yampa Valley Design in addition to Excel Gymnastics and the public defender in the existing building. It's not like you're starting with pure, raw land. Who knows when the spark in the local market is going to come back?"
Asbury said he and Dean valued the large commercial building at $3 million in contrast to the asking price of $3.5 million and the two smaller undeveloped parcels at $350,000 each, compared with the asking price of $750,000 each. The sellers originally paid $2.1 million for the 8.8-acre parcel and were asking $1.5 million. Asbury said they valued it at $1.2 million.
Damon Hill, of Total Struc­tures, was building the units in spring 2006, and the first pod of seven live-work units had pre-sold at prices ranging from $560,000 to $970,000.
Live-work units encouraged
Riverfront Park came through the city planning process as the real estate development market was gathering steam and city officials looked favorably on mixed-use commercial developments that incorporated employee housing units. The Spokane, Wash.-based developers proposed second-floor residential units just more than 1,000 square feet on top of 1,500-square-foot garages with 15-foot ceilings to accommodate people in development-related trades. The existing live-work units have decks overlooking the Yampa River.
Asbury said Dean has no immediate plans to develop the 8.8 acres along the river and has been in contact with Weinland to reassure him.
"He's talked to Steve, and he's staying," Buckley said.
Dean continues to see the 8.8-acre parcel in the context of its zoning for light industrial and commercial future development, Buckley said. The Yampa River Core Trail already is in place along its southern boundary, and the presence of a developing 20-acre city park on its western edge is an asset. Dean expects to work with the city to develop a second access to the park when future development goes forward.
"Randy's very intelligent," Asbury said. "He'll dream of something big for this property. He's all about trying to help the local economy."
— To reach Tom Ross, call 871-4205 or e-mail tross@steamboatpilot.com