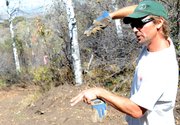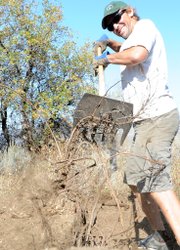 How to help
Many more volunteer hours are needed to finish work on the Rotary Trail, especially if it's to be ready to ride next spring.
Groups will meet today for three-hour sessions at 9 a.m. and 1 p.m. Burgers from Big House Burgers will be grilled from noon to 1.
Through October, crews will meet at:
Wednesdays: 10 a.m. and 2 p.m.
Thursdays: 10 a.m. and 2 p.m.
Fridays: 10 a.m. and 2 p.m.
Saturdays: 9 a.m.
Sundays: 9 a.m. and 1 p.m.
Directions: To get to Rotary Trail, take Twentymile Road about 5.5 miles west of the James Brown Soul Center of the Universe Bridge and then take a left on Cow Creek Road. One mile up Cow Creek Road are two parking areas on the left. The first small parking area is marked by a green gate. The second, larger parking area is only 200 feet down the road on the left. If you drive for more than 30 seconds past the first green gate, you have gone too far. Groups meet just above the parking areas by the skid steer, trailer and other equipment.
Bring:  
■ Work gloves
■ Water
■ Shade hat
■ Sunscreen
■ Mountain bike
For more information about volunteering, call Debbie at 970-846-6088.
Steamboat Springs — Aryeh Copa's creation, the Rotary Trail project on the back side of Emerald Mountain, is only half finished, and Friday morning, he didn't have a bike.
Still, when he showed off his pride and joy to visitors, he couldn't help but ride it. Or at least pretend.
"No one here's ever ridden a trail like this before," he said again and again, spreading his arms as if he were gripping handlebars and jogging along on the soft dirt.
"Maybe no one anywhere's ever ridden a trail like this before."
"You'll be going five miles per hour," he hollered at one point, making his way through a twisty section at the top of what will be a four-mile loop. "You'll be at 10 here, 15 here and 25 by the time you get down there."
He banked around corners, showing the way with hands and the excitement with his eyes.
"This," he said, "is going to be a lot of fun. I can't wait to ride it."
Unique experience
Copa's not alone in his eagerness to turn work into play on the trail, and hundreds of community members have taken up the cause. As many as 40 have shown up on weekend days to help with the labor-intensive project.
The trail came about as a community outreach project from the Rotary Club of Steamboat Springs, which sponsors one such endeavor every few years, said Grant Fenton, who organized the effort for the group.
"When we pick a project, there are a few factors," Fenton said. "One, will it be significant to the community? Two, is it something we can all get together and work on together? This opportunity presented itself when we heard (the Bureau of Land Management) was looking to build a trail on that ground in a year or two. We presented the idea to the club, and they overwhelming supported it."
The trail is being built on land obtained during the BLM land swap completed in 2007. Sections of that land were zoned for recreation and trails.
Fenton said Copa was an obvious choice to design the trail and head up the building efforts.
"Aryeh has an absolutely great vision and a passion for this," Fenton said.
As much was obvious as Copa explained the details of what will be the most significant trail he's built.
A longtime Steamboat resident and outspoken supporter of mountain biking in the Yampa Valley, Copa has designed several public trail projects and miles of private trails. The yet-to-be-named Rotary loop, however, tops them all, in scale and, in Copa's case, expectations.
The trail will be smooth, packed down hard, and wide, like a bike path. It will be multiuse, open to hikers and horseback riders. Copa's passion for the project comes from how it will be ridden by mountain bikers, however.
He's confident that in his four miles, he can wow riders from every end of the cycling spectrum, from experts who will be able to find thrills in banked turns, berms and rollers, to beginners who can easily roll past or over those features and go as slowly as they want for the whole route.
"It won't be all things to all bikers. It won't satisfy people looking for true downhill race course type of terrain, which would be gnarly and rooty and rocky," Copa said. "What this is supposed to be is a trail for all bikers, so hopefully, even the people who are looking for that steep downhill terrain can have a blast on this with all the berms and rollers. They'll be feeling the G-forces."
That combination is what he said makes this a project like Steamboat's never seen.
"It won't be all things to every­­­body, but hopefully, it's something to everybody," Copa said.
Opening options
The Rotary Trail is one of two trail projects under construction on the back side of Emerald Mountain on BLM land.
The other is a little farther down Cow Creek Road and is being funded by Great Out­doors Colo­rado grants and matching BLM funds. It will be a 6.5-mile trail connecting with the system on the other side of Emerald, and thanks to a narrower trail — the work is cutting a four-foot path as opposed to Copa's eight — and to a steadier work force of Rocky Mountain Youth Corps workers and BLM fire crews, it's coming along much faster. Nearly four miles are completed.
"It's going to be an awesome trail," said Gretchen Sehler, who, along with her husband, Marc, has been putting in volunteer hours working on it. "There's not very many steep climbs. This is a pure cross-country trail."
It will wind through a variety of terrain, from scrub oaks and sage to aspens and firs, and likely will be labeled as an intermediate mountain bike ride.
Riders will be able to combine the trail, also still short of a name, with the Ridge Trail, for a massive loop of about 13 miles. The Ridge Trail, meanwhile, connects to the work on the Rotary Trail, meaning an entire day's worth of riding is in the process of being added to the Steamboat cycling experience.
Sehler said they hope to have the trail finished soon but will halt work on it regardless of the progress later this month when elk and deer-hunting rifle season opens up.
"To get 11 or 12 miles of trail that close to Steamboat, that's just amazing," Sehler said. "Holy smokes. That's a lot of miles of trail to add in just one season."
Help wanted
Of course, the Rotary Trail needs to be finished first, and that's only going to happen with local volunteers shouldering the yolk.
Copa estimated that he spent nearly 60 hours on the design, wandering the woods in the area and then carefully picking out the right spots for the course. After approval was granted by BLM, he spent nearly three weeks with a bulldozer on loan from Ed MacArthur, blazing the trail. Now, the focus is on raking the dirt dozed out of the way back on top, establishing appropriate pitches for drainage and picking out plant debris that eventually could grow back in the middle of the track.
The climbing section of the trail, a little more than a mile that gains a modest 400 feet, is nearly through that stage, but lots of work remains on the downhill, especially on sections Copa hopes include the berms and rollers that could truly make his trail different.
A final sweep with smaller rakes, hopefully still this fall before the snow, will make the trail ready after a quick checkup in spring.
Volunteer trail work crews meet five days a week and will meet twice today, at 9 a.m. and 1 p.m.
For more information about volunteering, call Debbie at 970-846-6088.