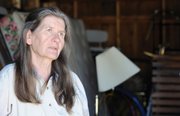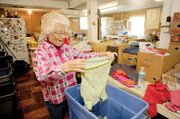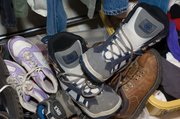 Phippsburg — The ladies at the Phippsburg Community Club are the light of the town. Or at least they're paying the bills for it.
The thrift store and community center at the old church at the end of Third Avenue has just about everything. In fact, the center turns only a few items away during its weekly Thursday operations, and the store regularly pulls in $150 to $400 per week in revenue. The money collected is used to fund the operation, spent on care for the city park, given as donations to local fire districts and used to pay for the town's 13 streetlights.
Sharon Ebaugh, a volunteer and one of the main organizers, said about everything you can think of passes through the thrift store. The store spills out of the main building, next to the church, into the yard. From there, two outbuildings are stacked floor to ceiling, and the basement of the church, where the sorting takes place, is lined with glasses, books, clothes and silverware.
"You'd be surprised at some of the antique stuff that comes through," Ebaugh said.
The items at the thrift store start at about a quarter and rarely cost more than $5.
An all-volunteer staff of women runs the center, and some have many years of experience operating the shop. Neva Ebaugh, Sharon Ebaugh's mother-in-law, said she's worked there for several decades, and her mother worked there before her. The community club started in the early 1970s in what is now the downtown park, in a schoolhouse that since has burned down.
The thrift store is a catchall for the South Routt area. Stacked in the multiple buildings is everything from suitcases to skis, and baby clothes to straw hats. Like every year about this time, the women are gearing up for their busiest time of year — the Christmas season. In the upstairs of the church, where no service has been held since the late 1960s, the tables and closets are packed with Christmas gear. There are place settings for holiday meals and bigger toys to place underneath the tree. There's even a year-round Christmas tree that will be on display when the club opens the upstairs, probably in mid-November.
Even the waste doesn't go to waste. Neva Ebaugh was standing at a table in the church basement Thursday afternoon, cutting up the cotton clothes that couldn't be sold. Sharon Ebaugh will take those $10 boxes of rags, as many as 32 at a time, to the miners at Twentymile Mine.
The rest of the items will be back on sale Thursday, and Sharon Ebaugh said the regulars keep checking to see the newest additions.
"Sometimes we even have the kitchen sink," she said.