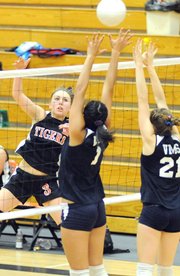 2010 Tigers volleyball schedule
Hayden — The games were close Saturday as the Hayden High School volleyball team battled Vail Mountain at home.
Still, the Tigers said their four-game loss wasn't a fluke, and they saw in their opponent many of the qualities they hope to develop as the season wears on.
Hayden lost at home to Vail Mountain, 26-24, 25-22, 22-25, 25-18.
"Vail Mountain was really the better team today," Hayden coach Greg Johnson said. "They played unbelievable defense. We couldn't put a ball down on them all afternoon."
Vail Mountain's defense refused to either bend or break.
Hayden rallied from an early deficit to win the third game but couldn't keep pace in the fourth and final one, thanks in large part to Vail's defensive dexterity.
Having erased a 13-12 Hayden lead and built a 19-15 advantage of its own, Vail Mountain stuffed the best the Tigers had on a series of points that closed out the match.
Hayden junior Erin Koehler got three powerful swings at the ball in a two-point span. All three were absorbed by Vail, the third of which quickly was turned around and hammered back to the Hayden side for a 20-15 lead.
"I tell the girls, 'Hit the ball hard and usually good things will happen,'" Johnson said. "Not tonight. We hit the ball pretty well."
Delanie VeDepo got a huge swing of her own late in the game, but it rocketed back off a well-placed block and counted as the match's final point.
"They were really working for the ball, and they helped each other a lot on defense," VeDepo said.
Hayden was at its best in the third game, where it bounced back from a 14-10 deficit. The squad tied the game at 19, then went ahead for good, 21-20. Jacie Temple served as the team stretched the advantage as far as 24-20, before winning, 25-22.
"That was huge for us," VeDepo said. "We didn't let them keep us down. It was good for us to get that win.
"In the first two games, they out hustled us. They came ready to play, and we didn't."
The Tigers, 7-6, will look to stay above .500 and avenge a five-set loss Friday when they play host to Rangely.
— To reach Joel Reichenberger, call 871-4253 or e-mail jreichenberger@steamboatpilot.com