Photo Gallery
Steamboat Springs homecoming game vs. Delta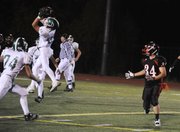 2010 Sailors football schedule
Steamboat Springs — For a while, it looked like no one wanted it. The game was played between the 20-yard lines, neither team could get into a rhythm, and there was no score through three-plus quarters.
But finally, in a game part defensive dominance and part offensive futility, the Delta High School football team did just enough Friday at Gardner Field, downing Steamboat, 10-7, in a sloppy, hair-pulling type of game.
The Panthers (3-2 overall, 1-1 in the Western Slope League) got a field goal from Miguel Ramirez midway through the fourth quarter and a late touchdown from Nolan Britain to get the win.
Steamboat's Christian Ram­­irez found Maury Mirante from 4 yards out with 42 seconds left in the game, but the Sailors couldn't recover the onside kick.
"We sort of had a bad hangover last week. Moffat came in and kicked our butt," Delta coach Ben Johnson said about last week's 26-7 loss. "This was a must win. It was. We knew Steamboat was getting better and better, and we had to play a good game."
For Steamboat, it was the second consecutive week where the Sailors were right on the brink of that first win, but never could make the play they needed. Steamboat outgained its opponent for the second week in a row, this time 243 yards to 223.
But where both teams struggled in the first half, the Panthers came out in the second half and started to put together something resembling an offense.
"I felt we were going to win the whole game," said Britain, who gained 155 yards on 32 carries, with 127 of those yards coming in the second half. "The second half we came out and dominated the line of scrimmage. This one was real important to get a win."
Smokey the Bear had little to worry about in the first half, however, as it offensively turned into the anti-fireworks show.
Delta's lone solid drive of the first half, its first of the game, came closest to sniffing the end zone. Delta had moved inside the Steamboat 20-yard line, but Michael Patton fumbled a first down reception at the Steamboat 7-yard line.

The Panthers' four first-half first downs all came on that first drive, one that covered 58 yards, before the Patton fumble.
In six first-half drives, Delta had a fumble, an interception and four three-and-outs.
Steamboat was marginally better. The Sailors gained 150 yards in the first half but never could get a big play when they needed it. The team saw two second-quarter drives end on downs inside the Delta 35-yard line.
The second half started to mirror the first half. Steamboat's best chance came late in the third quarter, but a Christian Ramirez run on a fake punt turned the ball over on downs at the Delta 36-yard line.
On the next drive, Delta ran 15 plays before Miguel Ramirez's field goal. Before that play, Steamboat was called for an offside penalty, meaning Johnson sent his field goal team out on the field instead of the punt unit.
"He's right about at 40," Johnson said about Ramirez's range. "I thought the 42 was too iffy because we didn't want to give them great field position. His adrenaline must have kicked in. He really banged it."
Steamboat had a three-and-out and an interception on its next two possessions. Finally, with just 1 minute, 51 seconds left in the fourth quarter, Steamboat went 53 yards in nine plays for a score.
"We're frustrated," Steam­boat's Christian Ramirez said. "All the plays we're running aren't seeming to work. Defenses are picking up on them pretty quick."
Steamboat (0-5, 0-2) now prepares for its second road game of the year. The team travels for a 7 p.m. game Oct. 8 at Rifle.
Despite growing frustration, Steamboat coach Lonn Cle­­mentson said the goal of a win next week remains.
"The team is definitely frustrated," Clementson said. "They felt like we had this one. We'll find out how we respond. We can't get much closer. I guess it could be 8-7, but we want to jump that. We'll work and come out firing next week."
Game statistics
Delta 10, Steamboat Springs 7
Steamboat
First Downs 12
Rushes-Yards 36-128
Comp-Att-Int 8-22-2
Yards Passing 117
Total Yards 243
Punts-Avg. 5-36
Fumbles-lost 1-0
Penalties-Yards 8-48
Delta
First Downs 12
Rushes-Yards 45-146
Comp-Att-Int 9-14-1
Yards Passing 77
Total Yards 223
Punts-Avg. 6-41
Fumbles-lost 1-1
Penalties-Yards 6-48
■ Score by quarters
Delta 00-00-00-10—10
Steamboat 00-00-00-07—7
■ Scoring summary
First quarter
None
Second quarter
None
Third quarter
None
Fourth quarter
D — 7:28, Miguel Ramirez 38-yard field goal.
D — 2:02, Nolan Britain 23 run. (Ramirez kick.)
S — 0:42, Maury Mirante 4 pass from Christian Ramirez. (Landen Mertz kick.)
■ Individual statistics
Rushing
D: Britain 32-155, 1 TD; Chris Lopez 2-4; Austin Hines 4-12; Mitchel Whiteside 7-(-25).
S: John Burrow 14-43; Ramirez 6-14; Charles Wood 10-46; Evan Hornstein 3-13; Mirante 3-12.
Passing
D: Whiteside 9-14-1, 77 yards.
S: Ramirez 8-22-2, 117 yards, 1 TD.
Receiving
D: Devon Ruble 3-30; Taylor Smith 2-20; Michael Patton 1-10; Britain 2-14; Lopez 1-3.
S: Kevin Gower 3-62; Wood 2-7; Randall Nelson 2-44; Mirante 1-4, 1 TD.