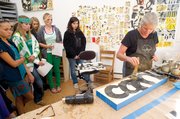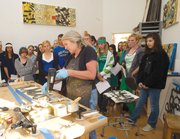 Steamboat Springs — Abraham Rodriguez stood in the Steamboat Art Museum on Thursday in quiet awe. The high school senior, on a field trip with his Advanced Placement art class, was tracing his finger along the pattern of the stitches of one of David Taylor's art quilts on display at the museum.
Although Rodriguez works with graphite and paper, he didn't hesitate to explain what he could learn from Taylor's work.
"Patience," he said, shaking his head as he stared at the piece. "I've never spent more than four days on a piece."
Taylor can spend more than a year on one quilt, but the 20 art students have that same amount of time to produce a portfolio of 24 works to present to the College Board at the end of the year.
To help them along the way and shine light on the artists' path, the Steamboat Springs Center for Visual Arts, owned by Linda Laughlin, has partnered with Steamboat Springs High School to offer the Artist Mentoring Program.
In its second year, the program has expanded from bringing artists into the schools to taking students out of the art room to artist studios and galleries in town.
On Thursday, the field trip took the group to the studio of Laura Wait, a local encaustic artist and book binder, as well as to Steamboat Art Museum to meet renowned quilter Taylor.
Four local artist mentors, Greg Block, Mary Beth Galer, Chris Selby and Missy Chotvacs, also visit the school to critique the students' works and help them find an area of concentration for the second half of the year.
Senior Grace Stamps said it was helpful to see various styles of art outside of a classroom setting. The group could have done an Internet search for "encaustic" and learned that it's a form of painting using pigmented wax, but Thursday they watched as Wait demonstrated the process.
"We're so restricted in our art room," Stamps said as she left Wait's house. "I never even knew you could paint with wax like that."
It was just the reaction Lau­­ghlin could have hoped for.
"It's got to be inspiration to them to see people who have made it," Laughlin said.
Senior Mirko Erspamer commented that it was reassuring to see that professional artists produce a lot of spontaneous art in their evolution.
"It gives you lots of new ideas," he said. "Just hearing about the artists' work and how they got to where they are."
Lisa Derning, the class' teacher, said she sees value in what Erspamer noticed about the way an artist's work evolves.
On the field trip, the students saw up close how Wait began ripping pages out of her handmade books to create paintings, and how Taylor used his graphic design career to forge ahead in his quilt designs.
She said her students had the potential to find their voices through that kind of progression.
"It's looking at the evolution of thought and evolution of a body of work," she said. "That's why we want to expose them. To get them to where their work is art and not just a study or an observation."
Rodriguez said he has hopes of being a professional artist after high school, and meeting those who already are in the business illuminates the myriad paths that could lie ahead of him.
"They have their own style," he said about the artist mentors he's met through the program. "And I want to have mine."