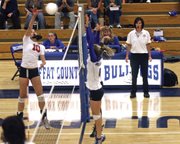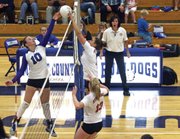 Results
Results from Steamboat Springs High School's varsity volleyball game Thursday against Moffat County:
Team 1st 2nd 3rd 4th 5th Final
Steamboat Springs 25 18 23 28 15 3
Moffat County 19 25 25 26 12 2
2010 Sailors volleyball schedule
Craig — Volleyball coach Wendy Hall was one of many people on the edge of her seat in the Mof­fat County High School gym Thurs­day night.
But, unlike the residents, she walked out with a smile.
The Steamboat Springs High School varsity volleyball team defeated rivals MCHS, 3-2, in the Thursday night game in Craig.
Both teams attacked the net throughout the match, with Steamboat winning the first set, 25-19.
"We always want to be ready up front," junior Maggie Stanford said.
Stanford, along with fellow junior Addie Sulentich and senior Marisa Beggs were at the forefront of the Sailor's defense, blocking almost everything Moffat County had to throw at them in the first set.
But by the middle of the second, the Bulldogs found their stride, combating Steamboat's blockers by tipping the ball up and around their wall rather than trying to slam it down their throats.
"I was getting pretty nervous," Stanford said. "Craig's a tough team."
The Bulldogs won the second and third sets, 25-18 and 25-23.
With a tight fourth set, victory looked to be on the horizon for MCHS, but the Sailors began to make a comeback. Stanford, spiking the ball at every opportunity, helped drive the score up more before clenching the win at 28-26, leaving Steamboat fans roaring at the newfound chance to win.
"The fourth game was definitely the hardest," junior Kailee Duryea said. "We had to work really hard."
MCHS head coach Sandy Camilletti said she noticed a change in her team as they began the fifth and final set.
"We had it in the fourth and then we started playing it safe," she said. "We were too afraid to make any mistakes."
Although the last set was hard-fought, Steamboat took home the win, 15-12. The victory puts the Sailors at a 5-6 overall record, which Hall said is a welcome change after losing their last four games to Weld Central, Delta, Palisade and Glenwood Springs, respectively.
"I really felt like we would continue in a downward spiral," Hall said. "This win means a huge deal to us because we've been struggling. We've been needing girls to come up and make big plays, and they did that tonight."
Steamboat volleyball next faces off Saturday at home against Eagle Valley and Battle Mountain.
"We'll be playing our hardest on Saturday," Duryea said. "The amount of effort we put in will determine the outcome."
Volleyball: Steamboat at Moffat County