Past recipients
■ Leckenby Pioneer Award winners
Ferry Carpenter, Walt Webber, Lewis Phillips, Ayliffe and Henry Zehner, Dorothy Wither, John "Doc" Utterback, Gordon Wren, Evelyn and Quentin Semotan, Bobby Robinson Sr., Val Fitzpatrick, Margaret Rossi, Gordon Wren, Eldon Brummett, Effie Baily, Eleanor Bliss, Vernon Summer, Marvin Elkins, Pat Holderness, Lowell Whiteman, Dee Richards, Don Lufkin, Pete Wither, Elaine Gay, Bill Bowes, Natalie Stanko, Linda Long, Frances Wither, Sam Haslem, Dr. Bill Baldwin, Mary Jean Perry, and Bud and Jane Romberg.
■ Stanley L. Larson Award winners
Claude Luekens, James H. Crawford, Dr. F.E. Willett, Charles Neiman, Carl Howelsen, Minnie Hertzog, Charles H. Leckenby, James Norvell, Everett Bristol, Lulita Crawford Pritchett, Emma Willcockson, Bob Gay, Charlotte Perry, Portia Mansfield, Joseph Shorty Hamidy, William S. "Bill" Green, Gates Gooding, Dr. John V. Solandt, George Cook, Delano Scott, Sumner Hockett, Geraldine Elkins, Clarence Light, Delmar Coyner, Robert "Bob" Moss and Chuck Fulton.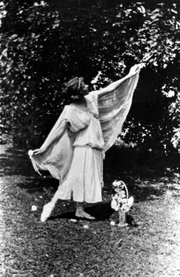 Steamboat Springs — The list of past award winners reads like a who's who of Routt County history.
James Crawford. Carl Howel­sen. Charles Leckenby. Charlotte Perry. Gates Gooding. Ferry Carpenter. Gordon Wren. Elea­nor Bliss.
Significantly, there also are names that aren't as recognizable. Folks such as Ayliffe and Henry Zehner, Eldon Brummett, Emma Willcockson, Joseph Shorty Ham­idy and Bobby Robinson Sr.
But make no mistake: Each of the five dozen past and present Routt County residents who have been chosen as recipients of the Leckenby and Larson awards has made tremendous contributions to the community, Tread of Pioneers Museum Executive Director Candice Bannister said.
"It's some of the people who really achieved some of the greatest accomplishments in our area's history," she said. "A lot of these people work or worked behind the scene, and they did things that a lot of folks didn't even realize or recognize."
The Tread of Pioneers Mus­eum and the Leckenby and Larson Awards Committee pre­­­­­sent the two annual awards, and this year's winners will be announced this month during a dinner reception. Bannister hopes for some last-minute nominations from the community to help ensure a strong pool to select from.
The original nomination deadline was Thursday, but Bannister said she'll accept nominations until 4 p.m. Monday.
"We've already received some incredible recommendations," she said. "We also look back and consider some of our past nominations. We want to be sure we don't overlook anybody and give the entire public a chance to help us recognize those folks who really deserve it."
The Leckenby Pioneer Award has been given since 1980 to a living person in Routt County. Nominees must have lived in Routt County for 30 years, but they don't have to reside here now. A good nominee is someone who has been involved in the community, responded to community needs and served as a representative of the history of the community. The winner also must demonstrate personal integrity and be inspirational to youths.
The Stanley L. Larson Award has been given posthumously since 1982 to people who lived in Routt County and are deceased. Nominees must have made a major contribution to the county.
Bannister asked that nominations be sent to her via e-mail at topmuseum@springsips.com. The e-mail should include the nominee's name and a description of why that person deserves to be recognized.
"This is a great way to formally acknowledge a lifetime of contributions," Bannister said. "It helps to root people in the history of the community, and it's a unique opportunity for the museum to recognize people."
For more information about the awards, call Bannister at 970-879-2214.