Steamboat Ski Area snow in the past six years
November snow/Total season snowfall
2005: 83 inches/432 inches
2006: 49 inches/316 inches
2007: 23 inches/489 inches
2008: 35.25 inches/405 inches
2009: 25.5 inches/261.75 inches
2010: 90 inches in November
Source: Steamboat Ski and Resort Corp.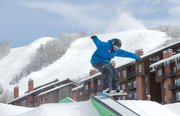 Steamboat Springs — With 9 inches of new snow Monday, Steamboat Ski Area broke the record for snowiest November in resort history.
The previous record was set in 2005, when 83 inches fell on the mountain.
As of 5 a.m. Tuesday, the resort had received 90 inches of November snow with one more day to go in the month.
The mountain reported a midmountain base of 47 inches and a 62-inch base at the summit, which Steamboat Ski and Resort Corp. reported is the deepest base in the state.
"Obviously, whenever we get snow, it's a great message, but to be able to say it's a record-breaking November, it really gets our guests near and far excited for the upcoming ski season," Ski Corp. spokeswoman Loryn Kasten said.
She said early snow could bode well for vacation bookings and the town and resort's economic forecast.
"We hope the early snow helps people make plans to come to Steamboat," she said. "It's enough to get everyone excited and make everyone want to experience the Champagne Powder."
Joe Ramey, climate special­­ist and forecaster with the Nation­al Weather Service in Grand Junc­tion, said Steamboat Springs is reaping the benefits of a strong La Niña, or low temperatures in the Pacific Ocean.
"I'm jealous," Ramey said. "So jealous."
The weather has followed a predictable pattern, he said.
"These storms have been very typical for a La Niña. A high-pressure ridge developed in the Gulf of Alaska, creating this northwest flow that favors Steamboat. Congratulations."
However, that northwest flow will break down in the next week, and Steamboat is expected to see only light snowfall in two minor disturbances this week today and Friday, and the arctic temperatures will warm into the more seasonable 20s and 30s. If you're Steamboat, Ramey said, you're hoping for that flow to return in the coming weeks.
But Ramey said La Niña typically means good things for Steamboat, especially in January, according to National Weather Service historical data.
"Steamboat has a very strong signal for getting big snow in January in La Niña," he said.
The previous La Niña was in 2007-08, when the resort recorded its highest season snowfall since it began keeping record in 1979.
The total snowfall was 489 inches, and Ramey said it was the wettest La Niña on record across Colorado, making it unlikely to occur again.
However, Ramey said the effects of La Niña account for only 15 to 20 percent of weather events. The rest might as well be random.
But optimism, sparked by a few November powder days, reigns supreme at Steamboat Ski Area.
Out on the mountain, even as temperatures hovered around zero degrees early Tuesday, Kasten said she'd seen nothing but ear-to-ear grins.
"Everybody on the mountain is thrilled," she said. "It feels like midseason out there. Obviously, we at the resort are happy to have these conditions, but it's so wonderful to see our guests take advantage of the snow and have a fabulous time on the mountain."
— To reach Nicole Inglis, call 871-4204 or e-mail ninglis@steamboatpilot.com
Snowy November, courtesy of Steamboat Ski Area